"So what's it all about? Do ya really wanna know?" – John Power
Last week, I played in a charity football tournament in the town of Kościan in Poland (not far from Poznań). Before the tournament, I wrote about it here – Śmieszne Historie o Piłce Nożnej w Polsce: Watch Me Play Football in Kościan in a Charity Tournament – VIII Halowy Charytatywny Turniej Piłki Nożnej-Piłkarze Dzieciom. As you might have seen on my social media the last few months, I was truly delighted to be asked by Jan Budzynski to join this event. When he asked me if I could play, it took me zero seconds to reply with a yes. An absolute delight.
What was more was that the build up to the event by Jan was immense on the Facebook page and I really couldn't believe the Polish hospitality nor the fact I shared a dressing room with some famous Polish people, played in the same team as them and also met some of the Polish ladies internationals. I had previously eaten and toured with the Northern Irish ladies team in 2007 in Belarus, this was now a weird paradox….in the bordering country.
I was too busy concentrating on watching the games to actually meet all of the famous ladies this time, which is kind of a regret. But as person after person posed for photos with them, I kept wishing I knew who they were and had watched some more ladies football. Though perhaps I was shy to chat to all of the Polish ladies players, particularly Weronika Zawistowska and Ewelina Kamczyk who shone as two stars of the orange and black team. I admired their football skills a lot. Kamczyk "nutmegged" her opponents time and time again and Zawistowska was perky and bright, who I nicknamed "Miss Dziewięć" (as she was number 9) and at the start I did not know her name. Now, I won't forget it. Both ladies play for the Polish national women's team.
So the story Begins
I arrived in Kościan on the Friday evening via train, where I had no seat, had to stand for 4 hours, predictably. But once here, all fell into place.
On arrival in quaintical Kościan I was greeted by Jan the organiser who not only picked me up, but drove me to my cosy room for the night. Polish hospitality at its best, what else did I expect? I was introduced to some of the other organisers and fellow footballers on the first night but I also took time out alone to see the town's sights and visit one of the bars. I was tired and despite watching Górnik Zabrze v. Lechia Gdańsk in a pub, I was asleep by 12.30 am….
The big day – the event!!!
I awoke at 6 a.m., had a shower (but no shave!) and Leszek and Sebastian reminded me that they were giving me a lift. We arrived at the venue just after 7am – Hala Sportowa Koscian.
Dawn had broke but as I had a busy day ahead (and it gets dark at 3.30pm) it became clear that I wouldn't get to see pretty Kościan in daylight on this trip. Once at the venue (Sports Hall in Kościan) I could see the set up and organisation was professional and well organised. I had a good walk around the place.
The ladies I met the night before Paula, Marta and Agata were busy preparing food and drink on the small bar. The pitch and hall looked ready and superb.
Along with Leszek we were the first in our team to arrive. The stand to watch in was huge. About 500 seats I guess so this was to be the largest crowd I have played football in front of since the 1998 Northern Ireland Boys Brigade Cup Final in Loughgall. Oh seriously, those were the days, I was so so young…and even though I was always anonymous, you won't even spot me in the photos, I offered two assists in the final, and I also scored with my hand in the first round in a 13-0 win, think Diego Maradona.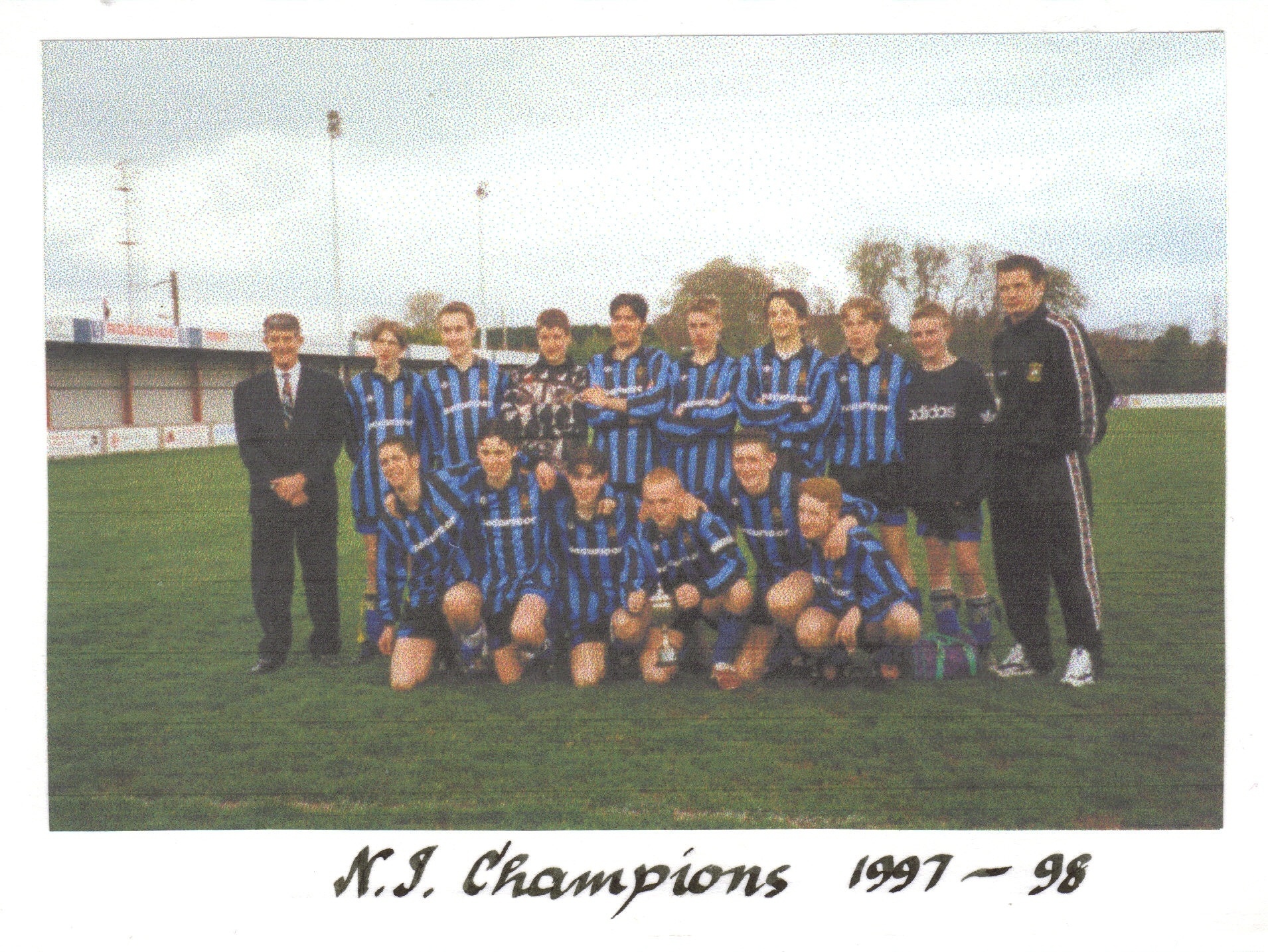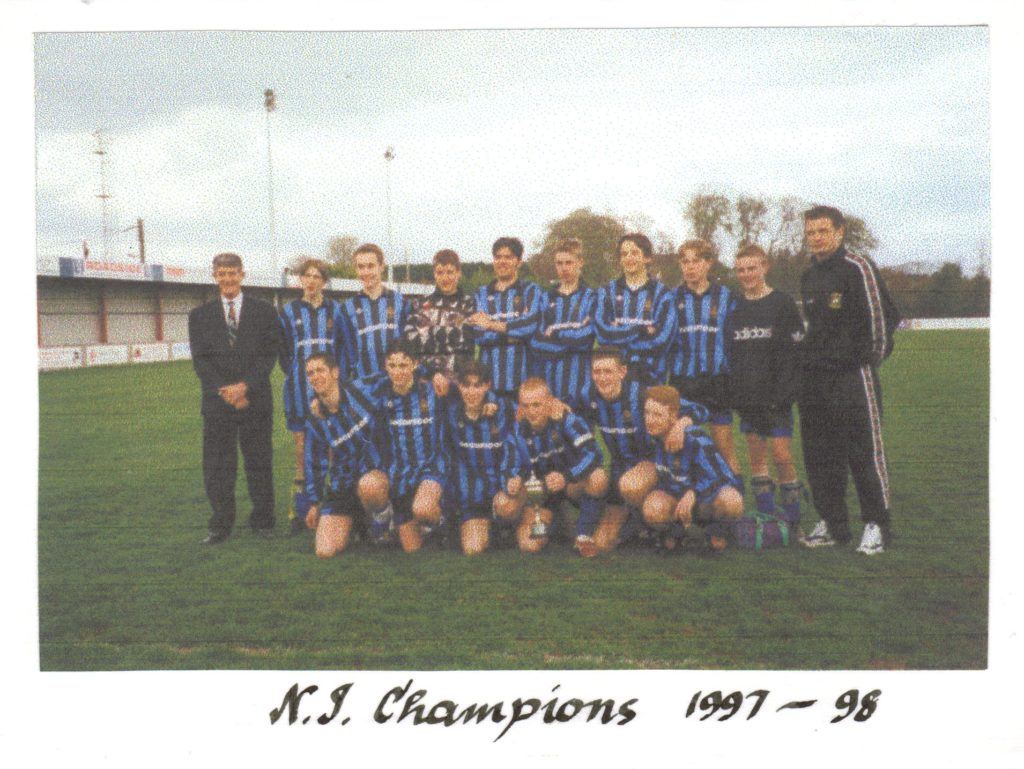 Here in little Koscian, the organisers desk was ready. All details of matches and teams were there. No stone unturned. No dodgy Maradona handballs or Geoffrey Hurst over the lines…
I had salad, bread and coffee for breakfast. All food and drink was provided on the day.
I was shown to my dressing room, number 7, all tidy and I collected my kit. I was first in so I chose number 8, no idea why. Normally my lucky number was 22, but that size was extra large so I went for 8. Leszek chose number 17 and Damian was number 10. Our team were playing in white shirts, black shorts and white and black socks. Our team was Stars Team, known in Polish as Drużyna Gwiazd.
After that, I started to check the tournament schedules for the day. Our team wasn't due on the pitch until 14.15 which meant a lot of waiting around, watching, drinking coffee and snacking. Before all that, there was the grand opening, led by my team mate and great singer and guitarist Leszek Gorzelak, a Polish singer and guitarist who now plays in Germany. Leszek rocks the party to a start with a memorable tune and soon the games get underway, with Damian's girlfriend Ania scoring the first goal in the ladies tournament in a 4-0 win for her stars team.
The Ladies Tournament
The ladies tournament started at 9 a.m. and was pre-luded by introductions and said guitar playing by Leszek, this post is photo heavy, a few more.
I chatted away to Damian and as the ladies teams emerged and warmed up, he alerted me that his girlfriend was playing in the Stars Team. Ania was number 7. This team were playing in orange and black and I likened them to the Netherlands. The Stars team included Polish ladies international Ewelina Kamczcyk (number 8  😎) and the superbly named Weronika Zawistowska (number 9). As mentioned, they kick started the tournament with a 4-0 win over KS Lipno Stęszew. This would later seem odd, as it was Stęszew who made it to the final in the end. The second match was a 0-0 draw between Sokoł Pniewy (another cool name!) and KWP Poznań. Pniewy reminded me that my team AFC Bournemouth play Crystal Palace later that afternoon (we drew 2-2). I continued to watch almost every match of the ladies tournament.
The 8 ladies sides were across two groups and included a Polish Police Team (who wore the colours of the Polish National Football team), KS. LIPNO STĘSZEW (who looked like Arka Gdynia in their yellow and blue kits) and Sokoł Pniewy (who were dressed like Crystal Palace). There were two scintillating semi finals, both of which finished 1-1 and went to McCrums (penalties / pelanties). I felt the two teams that won the semi finals were the underdogs and the battlers, up against the big celebrity names! Here are some photos from the ladies matches. KS POLONIA ŚRODA WLKP beat KS.LIPNO STĘSZEW 2-0 in the final. These were the two teams who finished runners up in the group. The Stars Team actually finished third without losing a match! They drew their semi and lost 3-2 on penalties.
Once the ladies tournament was over, there was some more charity raising and auctioning of items. There were some more celebrity appearances to come and there was lots happening. Judo and kick boxing experts and my team mates from Team Grużyna Gwiazd started to arrive. There was also Bigos and hot food available for lunch and I had my lunch along with energy drinks and water.
Full Results from Ladies Tournament:
Grupa A
TEAM GWIAZD – KS.LIPNO STĘSZEW 4:0
KWP POZNAŃ – KS.SOKÓŁ PNIEWY 0:0
KS LIPNO STĘSZEW – KS.SOKÓŁ PNIEWY 3:2
TEAM GWIAZD – KWP POZNAŃ 9:0
KWP POZNAŃ – KS.LIPNO STĘSZEW 0:1
KS.SOKÓŁ PNIEWY – TEAM GWIAZD 0:7
Qualified – TEAM GWIAZD (9 points, F 20 A 0), KS.LIPNO STĘSZEW (6 points, F 4 A 6)
Grupa B
REPREZENTACJA POLSKI POLICJANTEK – UKS GROM CZACZ 4:0
KS POLONIA ŚRODA WLKP – MUKS KARGOWA 5:0
UKS GROM CZACZ – MUKS KARGOWA 1:0
REPREZENTACJA POLSKI POLICJANTEK – KS POLONIA ŚRODA WLKP 1:1
KS POLONIA ŚRODA WLKP – UKS GROM CZACZ 3:0
MUKS KARGOWA – REPREZENTACJA POLSKI POLICJANTEK 0:7
Qualified – REPREZENTACJA POLSKI POLICJANTEK (7 points, F 12 A 1), KS POLONIA ŚRODA WLKP (7 points F 9 A 1)
Semi Finals
Team Gwiazd 1 – 1 KS POLONIA ŚRODA WLKP (2-3 on penalties)
KS.LIPNO STĘSZEW 1 – 1 Polski Policjantek (2-1 on penalties)
Final
KS POLONIA ŚRODA WLKP 2-0 KS.LIPNO STĘSZEW.
Champions – KS POLONIA ŚRODA WLKP
Third place play off – TEAM GWIAZD – REPREZENTACJA POLSKI POLICJANTEK 2:1
Superpuchar Kobiet (Polish Cup):
REPREZENTACJA POLSKI POLICJANTEK – TEAM GWIAZD 2:3
bramki / goals :
Irena Michalak, Agnieszka Ochota – Weronika Zawistowska, Aleksandra Bosacka, Justyna Naklicka
So the tournament winners were KS POLONIA ŚRODA WLKP and the cup winners were TEAM GWIAZD. Here are some more great photos as the ladies tournament came to a close. Some photos are from Roger, Tomasz and the Facebook page.
Auctions and Other Stars
There were some auctions of items for charity including a signed shirt by the stars teams (male and female) and Ewelina Kamczyk's Poland shirt. Other stars also turned up, including Basia Nalepka and Norbas Łabędzki, both famous MMA sports players. They had a mini kick boxing tournament on the mats in the middle and there was also Judo.
The Lads Tournament/ Turniej Mężczyźni
Once all that finished, it was time to play in the lads tournament. This was our team and the groups:
I had met Leszek the night before and knew Damian that morning, he once played in the Polish Ekstraklasa for Lech Poznan. The other guys I hadn't met before and I rarely chatted to them due to my lack of Polish, but a great team and a good friendly bunch! We had to wait a while for our first match and we were up against KS Brzoza. Our makeshift last minute team lost 5-0 despite battling. We had rolling subs and the match only lasted 10 minutes, as all matches did. It was fast and intense though! After the match we knew a win in the last match, even a 1-0 would take us into the Quarter Finals as there were only 3 teams in each group. In fact only 4 out of the 12 teams would exit in the Group Stage. Here are some memories thanks to photographers Roger and Tomas.
Our second match was now a must win and I remember setting up one shot and that was as near as I got to the penalty box! But as a consolation, Damian scored a great goal for us and we were 3-1 down, with 2 more goals in the last few minutes still a belief. We did attack but also we were out! Scored 1, conceded 8, but we had fun. It wasn't so bad in the end, as the team that beat us 5-0, also won their Semi Final 5-0 and the won the tournament. The team that had beaten us 3-1 only went out on penalties, so we were in a tough group. It was all fun.
Grupa A
TEAM GWIAZD – KS BRZOZA 0:5
REPREZENTACJA SZKOŁY – PRZYJACIELE PATRYCJI – TEAM GWIAZD 3:1
KS BRZOZA – REPREZENTACJA SZKOŁY – PRZYJACIELE PATRYCJI 2:2
Grupa B
DHL TEAM – DRUŻYNA SZPIKU POZNAŃ 0:3
ORGANIZATORZY – DHL TEAM 1:5
DRUŻYNA SZPIKU POZNAŃ – ORGANIZATORZY 5:1
Grupa C
OLD BOY TEAM – GOSTYNIN – IKP OLIMPIA POZNAŃ 0:1
KONGER TEAM- OLD BOY TEAM – GOSTYNIN 0:5
IKP OLIMPIA POZNAŃ – KONGER TEAM 11:0
Grupa D
METALASER – KOŚCIAN – REPREZENTACJA POLSKI W PNU 2:1
OTP TEAM TARNOWO PODG – METALASER – KOŚCIAN 0:1
REPREZENTACJA POLSKI W PNU- OTP TEAM TARNOWO PODG 2:0
Quarter Finals
KS BRZOZA- DHL TEAM 2:1
DRUŻYNA SZPIKU POZNAŃ – REPREZENTACJA SZKOŁY – PRZYJACIELE PATRYCJI 0:0 k 3:2 (penalties)
IKP OLIMPIA POZNAŃ – REPREZENTACJA POLSKI W PNU 1:1K 2:3 (penalties)
METALASER – KOŚCIAN- OLD BOY TEAM – GOSTYNIN 1:2
Semi Finals
KS BRZOZA- REPREZENTACJA POLSKI W PNU 5:0
DRUŻYNA SZPIKU POZNAŃ – OLD BOY TEAM – GOSTYNIN 2:1
Final
KS BRZOZA – DRUŻYNA SZPIKU POZNAŃ 4:3
Champions – KS BRZOZA
Third place match –
REPREZENTACJA POLSKI W PNU- OLD BOY TEAM – GOSTYNIN 1:1 K 3:2 (penalties)
This has been a long blog post and I didn't quite cover every match, it was a busy weekend indeed and I want to thank everyone involved for making me feel so welcome here. If the chance comes up to attend again, I won't hesitate to be there!! Dziękuję bardzo!
Some Media Coverage, there is a lot more online and on the official Facebook Page:
Here is a video of the second match I played in (I was sub, came on at the end and my only contribution in this clip is to mis- control the ball and give away a throw in!:

Here are some more videos from the tournament:

Follow and like Northern Irishman in Poland: