So you might have read that Poland has a Fat Thursday (doughnut day) known as Tłusty Czwartek, which is held on the last Thursday before Lent every year. I wrote about it in February, and also stuffed my bake with Pączki that day. Now for another cool Polish tradition and festival…Wet Monday!
Yes in Poland there is a "Drench people with water" day!! This is held every Easter Monday and is known in English as Wet Monday. In Polish, it is known as "Smigus Dyngus". It's another crazy festival, tradition or event in Poland. I have covered a lot of the others before on my blogs, including the Three Kings Day, Black Friday, the Drowning of Marzanna and Fat Thursday.
When is Smigus Dyngus / Wet Monday?
Smigus Dyngus is on Easter Monday every year in Poland. It is always on the same day, but the date varies depending on when Easter falls. It's a public holiday for most businesses in Poland as part of the Easter Christian Festival. It is also normally around the start of Polish spring in late March or early – mid April, which means the weather is usually getting warmer. However parts of Poland are still covered in snow around this time so it can also be a cold day out.
What is Smigus Dyngus / Wet Monday?
As mentioned, Wet Monday takes place every year on Easter Monday in Poland. It is a celebratory day with many events held throughout the country. One of the traditions is getting soaked with water! Yes, really!
During Smigus Dyngus people all over Poland might get water thrown on them. Typically it acts as a chance for guys to soak girls. People say that if you don't waken up early on Wet Monday, you will be awoken by having water poured all over you, so set your alarms and get put of bed. Smigus Dyngus takes place all over Poland in family homes, universities, some businesses and flats. Some Polish people abroad also celebrate this crazy day. The festival's roots date back a few centuries and nicely, it still lives on today. Polish traditions have remained firm despite the fact that the country once disappeared from the map, the Germans once ruled it and the Russians once communised it.
Traditionally boys would sneak into girls rooms and houses on Smigus Dyngus (Easter Monday) and launch buckets and containers of water over them while they were still in bed. After that drenching, the boys would spank the girls with pussy willows. Sometimes, the girls and their beds and baths are even dragged onto the streets and rivers to get soaked even further. In some instances, there is a bath tub already set up for this purpose!
Over time, it also became something of a way to flirt, guys choosing the girls they liked (or even loathed) to pour the water on. In turn, girls then use Easter Tuesday, the following day to pour water on the boys, to get revenge. These days though, anyone can get soaked on Smigus Dyngus, pick your targets!
Generally, the very attractive girls tend to get drenched repeatedly throughout the day! So ladies – if you look particularly appealing and want to avoid water, it might be a good idea to look your worst on this particular day.
There is a purity attached to Smigus Dyngus, with the use of water said to evoke the spring rains needed to ensure a successful harvest later in the year. To avoid being soaked girls could prepare painted eggs as presents to the boys. These painted eggs are known as Pisanki (a tradition all on its own, worthy of another post sometime). The eggs bring good luck and happiness and health.
You're next to get married if you get soaked the most
In some Polish regions, boys used to chant to the girls "Dyngus, dyngus, po dwa jaja; nie chcę chleba tylko jaja", which translates as sometimes like "I don't want bread, only eggs". Girls of course, don't really like this, despite the attention they get. Nobody wants to waken up and get soaked surely? However there was meant to be a superstitious luck attached to it – it was often said that the girl who gets soaked the most will be the next to get married. So every cloud has a silver lining, perhaps…
Who celebrates Smigus Dyngus / Wet Monday?
Not everyone in Poland likes Smigus Dyngus, agrees with it or celebrates it but it has become part of a bigger overall celebration now in Poland. Some villages, towns and cities hold large events which now feature an organised water fight, amongst Easter egg painting (Pisanki), face painting and other such activities. Depending on your outlook on being soaked with water, Smigus Dyngus could be more of a day to avoid, than a day to celebrate.
Many Polish girls may wish to hide away on Smigus Dyngus due to being scared of getting soaked and embarrassed in public. Wearing skimpy clothes and white t shirts and trousers is definitely not recommended, it can be quite a cold day anyway. But generally it is a day that can be fun and is well-known and celebrated all over Poland and in Polish communities abroad. Other countries also have similar days, although it rarely falls on April Fool's Day. Thailand has Songkran. Hungary has Locsolkodás. Similar festivals also take place in the USA, Czech Republic and Lithuania.
Can Smigus Dyngus be classed as a "separate country"?
I know what you're thinking – with all my wacky adventures through disputed lands such as San Escobar, Krolestwo Dreamlandu, Karakalpakstan, Podjistan and Uzupis…can Smigus Dyngus be a country? No, it can't. It's just a Polish tradition and celebration, but for souvenir hunters, you can get your own Smigus Dyngus coins…
Survival tips for Smigus Dyngus?
If you really want to avoid getting wet on Smigus Dyngus, stay at home! But there are a few other things you can do to survive. So now you know all about it, how do you survive this day as a visitor to Poland? It's quite easy. Here are some of my tips:
1.Be ready for it and be aware.
2.Don't wear expensive or good clothes.
3.Don't take your electronics out with you – laptops, mobile phones etc.
4.Don't take your valuables out with you – passports, wallets etc.
5.If you really have to take your valuables, put them in a bag or container and cover them well, then put them in an outer bag and into a backpack.
6.Stay alert the entire day – even on buses.
7.Carry some water yourself so you can get immediate revenge if you get soaked!!
8.Have fun. It's not meant to be a day of danger! It's light hearted, traditional and fun.
What to do on Smigus Dyngus / Easter Monday as a tourist?
If you happen to be in Poland as a tourist on Smigus Dyngus, you can get involved. For a start, be well prepared and don't bring valuables or wear expensive clothes. Find out if your local area is organising an official event and off you go. On the way, be ready to soak others, and be soaked yourself!
Attending Smigus Dyngus / Wet Monday Events in 2018
Organised events on Easter Monday might have the words Smigus Dyngus, Dyngus Day, Wet Monday, Lany Poniedziałek or Poniedziałek Wielkanocny on them and take place all over Poland. Today in 2018, Monday 2nd April you can go to a range of family friendly events. Here are four events I found, you can find a lot more!
1.Smigus Dyngus in 'beeric' Łomża 
The town of Łomża (also famous for beer) has a Smigu Dyngus event in 2018, as advertised on Facebook.
2.Smigus Dyngus in holy Pelplin
A couple of years ago, I backpacked to the holy town of Pelplin in Poland's gorgeous Kociewie region. They hold a Smigus Dyngus event in 2018, details below and on the local news site.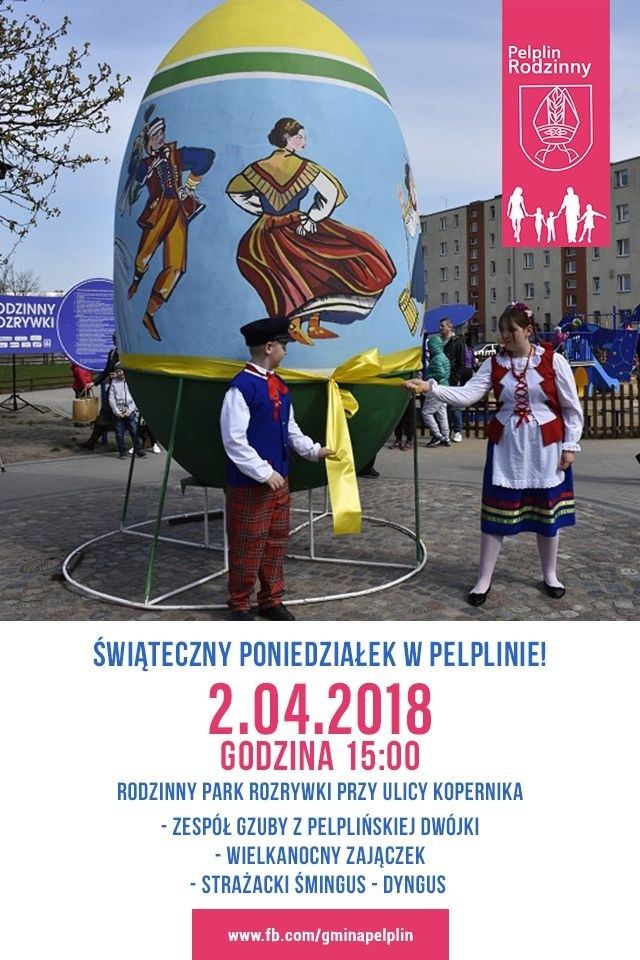 3.Smigus Dyngus in Nowy Targ
In the south of Poland, the town of Nowy Targ (one I haven't yet been to) holds a Smigus Dyngus event, which has a party of DJs later on and costs 20 złotych. Check the Facebook page for full details of that event.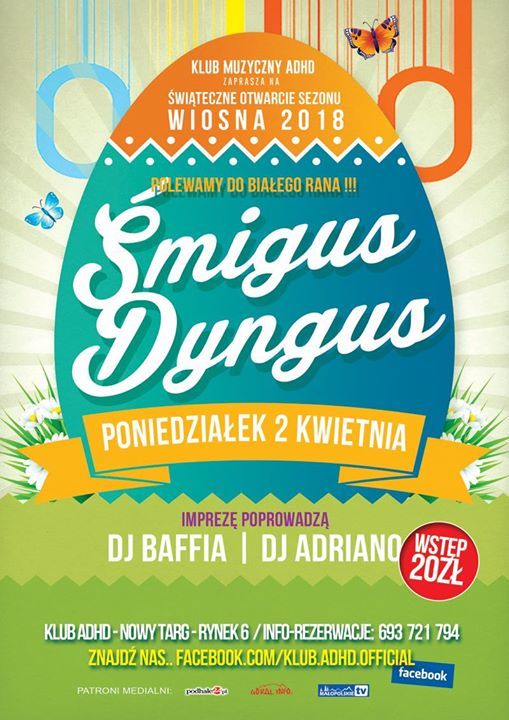 4.Smigus Dyngus in Świnoujście
Last summer I visited beautiful Lubiewo and Międzyzdroje on Poland's north Baltic Coast. If you are feeling adventurous for Smigus Dyngus, head to the seaside town of Świnoujście. Here you can attend a Smigus Dyngus event and later end up in the sea. Be aware – the waters are still cold. Świnoujście also sits right by the Germany border. will play host to a Wet Monday event. Information about this is on the Świnoujście news site.
So have a great Easter Monday, Wet Monday or Smigus Dyngus!
Don't get too wet!!
Follow and like Northern Irishman in Poland: