"I can't seem to stop my imagination" – Louise Nurding (Naked).
** Reader warning – article may contain footage of nudity and partial willy sightings.
In the days before Northern Irishman in Poland was born, I enjoyed nude moments on my travels, exposing my willy on every continent, as freedom is something I crave and nudity beats war. This saw the clothes-less light on day on the Don't Stop Living platform, including swimming in Antarctica, full nude dances on the Inca Trail , being completely buff bodied in central Munich and a night of Saunas and Snow Dives in Jarvenpaa, Finland.
Until July 2017, the Polish public had not yet had my nude display, and probably they didn't need or want it. However, thanks to my readers (whoever voted for that – it was YOU not me!), my July challenge was to get naked in Międzyzdroje, at the nudist beach. I didn't even know where Międzyzdroje was, hadn't a clue. This was another szalony crazy adventure. It turned out to be a few dozen miles from the Germany border!! However I admit, I wanted to fire the bow and arrow in Owidz out of the options you were voting for. Hopefully next time…
Getting to Międzyzdroje
Having made a triumphant return to the seaside city of Gdynia the day before, where I toured the bars, enjoyed the Cat Cafe and slept at the Green House Hostel, I headed to Międzyzdroje by train. Unfortunately there was no direct train, so I had a change at Szczecin. It was an easy trip to book. Polish train networks are excellent and the train here was comfy. As you can see from my photos…
Backpacking in Międzyzdroje
As with all the places in Poland I visit, I simply haven't had time to write about all of them, but I do admit, the obscure lesser known places are the ones that excite me the most. In the past year I have backpacked to Rywald, Kokoszkowy, Pelplin, Starogard Gdanski, Tczew, Biskupiec, Kuklowka, Milanowska Wólka, Pawłów, Świętokrzyskie, Trzcianka. Międzyzdroje can now join the hitlist.
Because of this, Międzyzdroje was sure to excite me. Low and behold, I loved it, so thank you to my readers for sending me here. Highlights were the upside down house, the Molo w Międzyzdrojach and the main beach in Międzyzdroje. When I find time, I might write about the sights, and bars of Międzyzdroje, but in the meantime, some photos of this beautiful seaside town. I really loved it. Please try and visit!
And don't just take my word for it – celebrities also come here including Polish international football ladies team captain, Ola Sikora who was here just before me.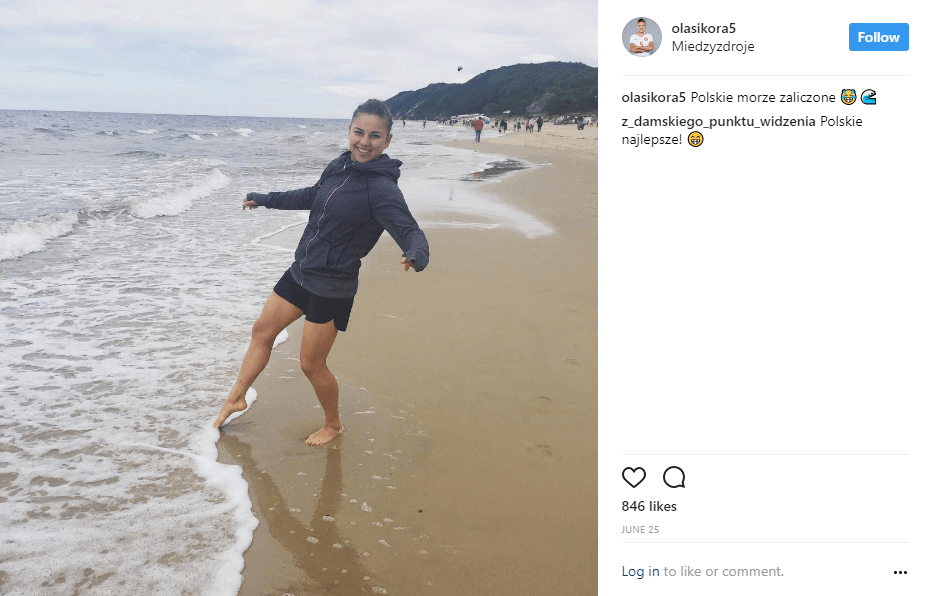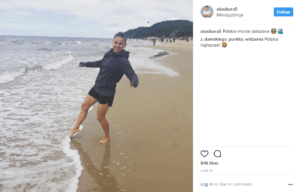 The Nudist beach at Lubiewo, Międzyzdroje
When I first arrived in Międzyzdroje I expected the nudist beach to be easy to find. But in fact it is far away from the town, well along the coast at Lubiewo. Even when I asked people, they had never heard of it! It all added to my adventure, and yes it was a challenge now!
So on the Saturday evening, I kept asking people in the bars and cafes to no avail. Google searches showed that it was in Lubiewo. After dinner, I realised it was getting dark so probably I'd have to wait until the next morning for my nudist beach experience. Then I came up with the idea to visit the nude beach twice – once at midnight – and once for sunrise. I knew sunrise here would be gorgeous. Next step was to locate the nudist beach. I didn't want to take my clothes off and then be told by the police that this is NOT the nudist beach. This was gorgeous but the wrong one…
My research took me to the bars on the beach, as you do. It weirdly reminded me of Bournemouth, Goa and Laos all in one. As I sipped a Desperados in the first bar, still no clues came as to the location of this phantom nudist beach. Where was it? Close to Germany, I knew, but how far would I have to walk? Not as far as Swinoujscie, luckily…well you can see the border here…
The First Bar was called Copacabana Miedzyzdroje
I had a single Desperados Beer with lime here in Copacabana Miedzyzdroje, but still nobody knew of this nudist beach. As the map showed Lubiewo further along, I knew it must be a bit of a walk. Still I enjoyed a beer in here, 8 zlotych.
https://www.facebook.com/pages/Copacabana-Miedzyzdroje/178960228824773
The sun had truly sank as I walked along the golden sands of the beach away from Międyzydroje towards Lubiewo. I got attacked by mosquitos, despite having lots of spray on and then I found Cafe Melba, wherein lay my answers and an evening of fun!
The Second Bar was called Cafe Melba Beach
The second bar had live music, a great crowd and superb friendly staff!! Plus the manager knew where the nudist beach was, she told me straight away. As I put my backpack down, put my jeans back on (as I was getting bites on my legs), I swapped them for my swimming shorts, and ordered a second Desperados beer, I was invited to the party…
Also, people ask me about Polish beer and yes I drink it, love it and am in the process of writing about Craft Beer bars, but for some reason on this trip, I was into Mexican beer and I drank Desperados again! I did have a great time in Mexico in 2014 so this might help explain it…plus by a twist of fate tequillas were to come later on…
Live music was on in Cafe Melba, with a saxophone artist in control, belting through the hits as we danced our way around the bar. Abba, Queen, Ace of Base. A reluctant neglect of Ash, Van Morrison and Oasis. However, the party animals inside invited me to join them, the bar staff gave me a free hat, a German lad gave me a free beer (oh I changed my mind on Germans again!) and it was another crazy step along the way, with twists to come. Olga on the left of the photo below would have a role to play on my journey…
Midnight on the Nudist Beach at Lubiewo, Międzyzdroje
At midnight I had left Cafe Melba and made it along the coast to Lubiewo. The beach wasn't hard to find by night, as nobody was there! I enjoyed my first nude dip in the waters. I left my bag and belongings on the beach and near the water just to be safe. I tried to take some photos, but I was alone, the flash wasn't great either. It was then I wished I had a backpacking colleague to take the photos for me.
The decision was made to head back to Międzyzdroje and come back in the morning. Then the huge coincidence…while walking through central Międzyzdroje, my barmaid Olga is sitting with two others at a bar called "Corner Bar"! I am invited to join them. We chat, we drink, we laugh. I met Klaudia and Dawid, two of Olga's friends and we have beer and tequilla. I even get some free beers as some already drunk guys come over with cans and leave them there, so Olga and I indulge!
Sunrise on the Nudist Beach at Lubiewo, Międzyzdroje
And so early morning, at dawn and just before sunrise, I made the walk back to the nudist beach at Lubiewo. My walk this time took me through the inland side where the town of Lubiewo sits. Aside from one jogger and a few friends who I shared the photos with, nobody else was in sight for sunrise here on the Nudist Beach at Lubiewo, Międzyzdroje. I couldn't believe it. Some of my old friends thought I joked about my nudism. Oh no…
"You're very funny Jonny. I know you were joking, weren't you? Can't wait to see your photo!" – My travel friend awaiting a nude.
It was gorgeous. I waited and waited, assuming more naked guys and girls would appear anytime soon to join in my freedom. I was completely nude for 55 minutes. But nobody else arrived…alas the photos and memories remain…
Why were there no other people there? Are Polish people too shy? Is sunrise and moonset a bad time to go? I will probably never find out, but I am definitely up for another Polish nudist beach in future. If any of my readers are keen to join the next one, as always, contact me.
jonny (at) northernirishmaninpoland (dot) com
I might not be alone next time, a friend has declared to come with me, perhaps my next photographer… (she is not in the photos).
A good Facebook Blog on Miedzyzdroje:
https://www.facebook.com/Moje-Miedzyzdroje-1508447046069142/
Here are some videos from my time in Międzyzdroje:
<iframe width="560″ height="315″ src="https://www.youtube.com/embed/WrGxwTn-lfk" frameborder="0″ allowfullscreen></iframe>
<iframe width="560″ height="315″ src="https://www.youtube.com/embed/JW22wPVGrlE" frameborder="0″ allowfullscreen></iframe>
Here is a video of my nude dip at the Nudist Beach at Lubiewo, Międzyzdroje:
Follow and like Northern Irishman in Poland: