"Mistrzem Polski jest Legia. Legia najlepsza jest" – Legia Warszawa fans.
As a long term football geek, veteran of over 500 live matches and a football writer, I love going to watch football in Poland. Don't believe the myths and rumours that foreigners don't go to football matches in Poland. We do and we love it. I'm not Polish and I love the football culture here – it's one of the top 5 football cultures I've ever seen (yes, Uruguay, England, Northern Ireland and Brazil are predictably the other four). OK so I lived in four of those countries, was born in one of them, live in one of them currently and backpacked Brazil 5 times, but it still rings true. I'm a sentimental type of guy. My first proper away trip with Northern Ireland was at Legia Warszawa's stadium. Oh 2005 the memories. Here's my quick guide on How to Buy a Legia Warszawa Match ticket, as part of my ongoing Mieszka W Polsce: Living in Poland series.
Firstly you should know – it's easy to go to a Legia Warszawa Match in Poland, and in fact to watch matches of any other team. I have been to around 50 matches in Poland now at over 18 different stadiums including Legia Warszawa, Lechia Gdańsk, Klub Piłkarski Starogard Gdański, Kartofliska and Bruk Bet Termalica Nieciecza.
"Is this the way to Legia Warsaw? Every night I've been eating my coleslaw" – Marc Vanucci and I having a laugh in 2005.
Yes it is true that Poland has had problems with football hooligans, hardcore, ultras etc. down the years. But it's the same as many other countries in this regard. Blend in with the crowd and attend matches as one of the locals and you will love it. Know the colours and the sides you are supporting and you'll be fine. Football is the people's game and far and away the number one sport in Poland.
So here is the easy way to Buy a Legia Warszawa Match ticket as a foreigner
1.Go the Legia Warszawa Stadion
Seems obvious right but yes – do it. Foreigners wanting a match ticket cannot buy them online officially (yes websites like Viagogo may have them but not officially) unless they have a PESEL (a national identification number used in Poland). You need to visit the stadium itself. It's a great stadium which has been recently been renovated so that it is now all seater and holds a whoppaday 29,000 fans.
On my first visit to the stadium in 2005 it was so different to how it looks today, three of the sides didn't have rooves back then.
We were in the away section, supporting Northern Ireland that night, a standing section. It is now a state of the art all seater stadium with rooves and is used for Legia Warszawa matches. The Poland national team no longer play there. They now play at the National Stadium (Stadion Narodowy) or in Chorzow, Gdańsk or Wrocław. Getting to the stadium is easy and should be done by bus. The Warsaw metro and trams don't go that close to the Legia Stadion so you need to get the bus or walk. There are quite a few buses that go nearby.
Legia Stadion is at 3 Łazienkowska Street in the lower Śródmieście part of Warsaw. These are some of the buses that go there, my favourites being the 162 or the 520:
107, 108, 138, 141, 143, 159, 162, 171, 182, 185, 187, 188, 502, 520.
The bus stops you should get off the bus are Legia Stadion (very close), Rozbrat (3 minute walk) or Torwar (3 minute walk). The Stadium has many names, such as Legia Stadion, Legia Stadium, Łazienkowska 3, Polish Army Stadium, Pepsi Arena, Marshal Józef Piłsudski Legia Warsaw Municipal Stadium etc.
2.Go to the ticket booth
Once you're at the stadium you will need to find the ticket booth. It's on the main road, Łazienkowska between the Żyleta (Razor/ hardcore) fans stand and the west stand. It's easy to find.
The ticket booth has both outdoor windows and a small indoor section for buying tickets. Sometimes they are all open, sometimes. The opening hours are:
Monday to Friday: 11 AM – 7 PM
Saturday: 10 AM – 5 PM
Sunday: 11 AM – 3 PM
Pre-match day: 8 AM – 9 PM
Matchday: from 8 AM
(on special holidays and at certain times it will be closed completely, summer hours also vary when the football season ends).
3.Buy the ticket
There are two options for buying the ticket – firstly you can fill in a form to get a Legia fans ID card (use this option if you plan to go more than once) or secondly you can just buy a one-off match ticket and not register for the card. If getting the Legia fans card, you should be living in Poland (and have a Polish address and phone number) so I have a card and I will write separately about how to get the Legia Warszawa fans ID card. For that, there are forms to be filled in. They are all in Polish. Bring a dictionary or a translator.
However, as a foreigner, you don't need a Fan's ID Card (Karta Kibica) to purchase a ticket for Legia home matches. While buying a ticket in the box office at the stadium for the first time you will be asked to show an ID with your photograph, (preferably your passport, but driving licences are also accepted). Your personal data will be then uploaded to the Legia Warszawa system (by law of the Polish FA your data needs to be on there) and while buying tickets next time, all you will need to do is give the cashier your name and surname.
You can pay in cash (Polish złotych) or on card. Ticket prices vary depending on the match and where you choose to sit. I normally sit in section 202, 201 or 200, I recommend Trybuna Wschodnia or Trybuna Zachodnia (both stands I have sat in). Right beside the hardcore and a great place to get a mix of atmosphere and view. Sections 108 and 107 (and all to the right green section below) are the Zyleta hardcore. D1 corner is the away end – you will be denied entry or even buying a ticket for that section – it should be arranged through the club playing against Legia.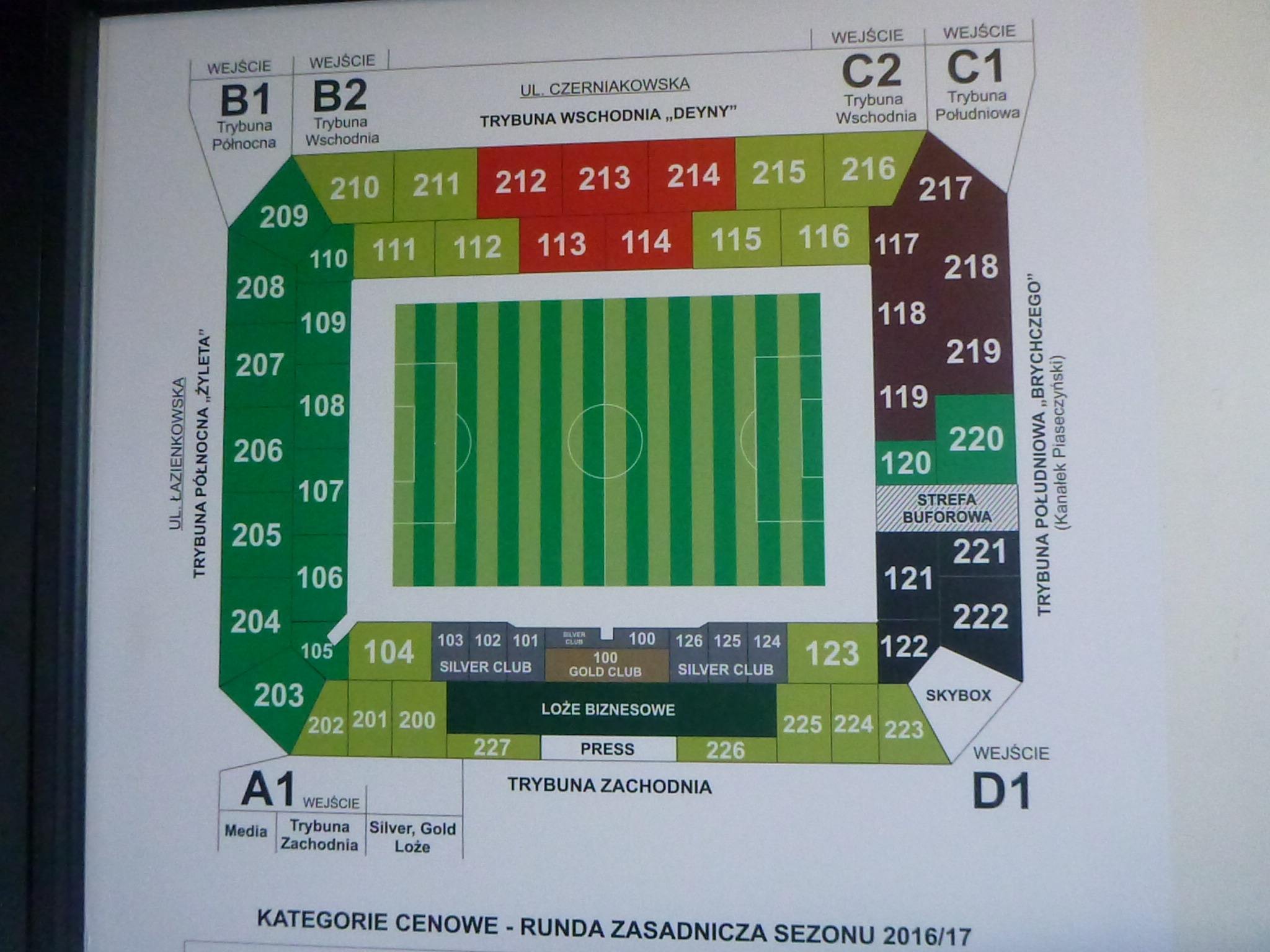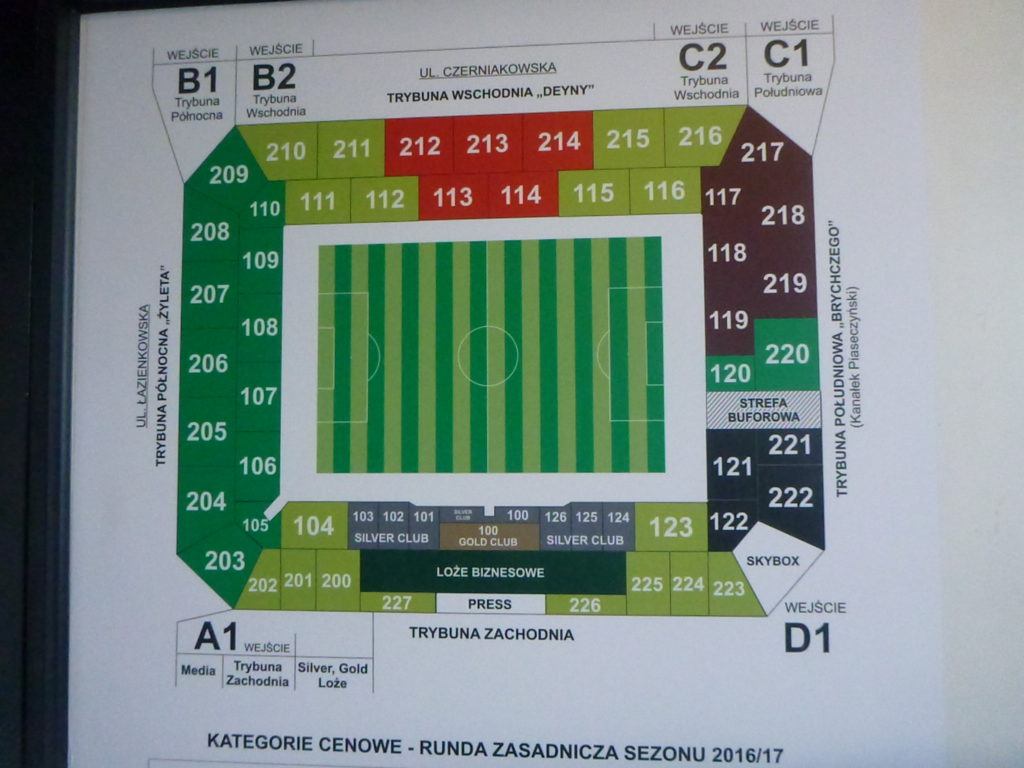 After the purchase, you will get a printed ticket with your seat number, row, stand etc.. This will be checked by the security officer at the entrance together with your ID (so bring the same ID you used to buy the ticket). According to the Polish FA law, no one can enter the stadium anonymously. The barcode section will be scanned on entrance and your bags and body will be searched for weapons, alcohol etc.
It's a very easy process to buy the ticket, and if you have any questions, please contact the Legia Fans email at [email protected]. Now you have your ticket, go to the match!! As a tip make some local friends, get to know Legia fans and learn the players names and songs.
Here are some videos of my time watching Legia Warszawa:

Follow and like Northern Irishman in Poland: