"Nie ma footballu bez alkoholu" – famous Polish groundhopping blogger Radosław Rzeźnikiewicz
(There is no football, without alcohol)
The magic of the FA Cup in England, the glory of the Irish Cup in Northern Ireland, both glaringly obvious football tournaments from my travel back catalogue. Indeed, I attended the Irish Cup Final 4 times (seeing Glentoran win 3 of them) and in the FA Cup, I made it to many AFC Bournemouth matches and even some early rounds with other teams. Globally I have also watched Northern Ireland in over 20 countries, including at Euro 2016, as well as watching the Argentina v. Germany World Cup Final in Rio de Janeiro, Brazil in 2014. It's the same old game, everywhere you go. Another day, another dream, another stadium…
However, having now lived in Poland for over a year, I have picked two local teams to support (Legia Warszawa and Klub Piłkarski Starogard – inspired by both Rafał Kowalczyk and Kazimierz Deyna), and I've been to both stadiums a few times now, including the day Legia Warszawa won the Ekstraklasa and the Kazik Deyna 70 Year festival of football. But it was finally time to attend a Polish Cup match and this was quite the spectacle, arguably one of the best football experiences of my life, when you consider everything on view here. We need to understand what was happening and set the scene.
"Our house in the middle of our street" – Madness.
So the Polish Cup is similar to the FA Cup in England, in that 1,000+ teams can enter it and in theory all can win it and get with it that cherised prize – Puchar Polski and a place in the Europa League qualifiers. An honour which befell the seaside port team of Arka Gdynia this year. As my friend Kamil heartily professed on route to the stadium, "Jonny the Polish Cup is the tournament of 1,000 teams. Kartofliska can win the Champions League without promotion. First they win the Polish Cup. Then they win the Europa League (formerly the UEFA Cup). That gets them into the Champions League. Then they win it". He is right. I loved the fact, I couldn't wait.
Now, in mid August 2017, just one of many FIRST ROUND (I mean the very FIRST, the early qualifiers) Polish Cup games was taking place in Warszawa – it was two teams I had never heard of. But I was invited twice – first by Mateusz (a groundhopper and prominent member of Krolestwo Dreamlandu, who earlier in the year watched a match in a speedway stadium with me in Gdańsk) and secondly by Kamil and Rafal, so it was clear this was an event to attend and for sure one for my Śmieszne Historie o Piłce Nożnej w Polsce series. Life has been so busy lately, working on travel articles on Gdynia and Sopot for a travel company, and so I will first share Mateusz's post about this match, and then write my own account.
The Walk to the Stadium
I meet Kamil and Rafał at Plac Wilsona, Kino Wisla. The lads here are easy to get along with. Our lives are the same. We get some ice cold beers and walk to the stadium at nearby Marymont. There was a Zabka (frog shop) near the stadium to top up our beers. We knew that we could also nip out at half time to Zabka again to top up! The scene was setting! There were to be five in our group. Myself, Rafal, Kamil, Mateusz (who travelled from Gdansk) and my friend Matthew who just happened to be travelling through Warszawa at the time!
The Stadium at Marymont
Arrival at the stadium in the Marymont district of Warszawa and already this is sure to be a classic. The stadium is old, worn, retro, concrete, dangerous, rugged, raw, wacaday, vibrant, real, pure. A real football ground. There is one main stand (the grandstand where we sit – we're all VIP today. All of us). The other side has terracing with trees and weeds growing through it. Behind both goals would be room for many more spectators if this match got busy.
I guess this stadium is the home team for Marymont Warszawa 1911, a club that even pre-dates Legia Warszawa! Legia my team of choice (joint with Starogard's Klub Piłkarski) and one of only 16 to ever win the Polish national league.
http://ksmarymont1911.pl/
https://www.facebook.com/marymont1911/
https://pl.wikipedia.org/wiki/Marymont_Warszawa
Realistically the stadium can hold a few thousand at least, capacity not really known though. If you cut the weeds out, it would be a decent size! The stadium was absolutely perfect for such a game. This was football alcohol rock n roll in it's morning glory.
"Another sunny afternoon, walking to the sound of my favourite tune" – Noel Gallagher.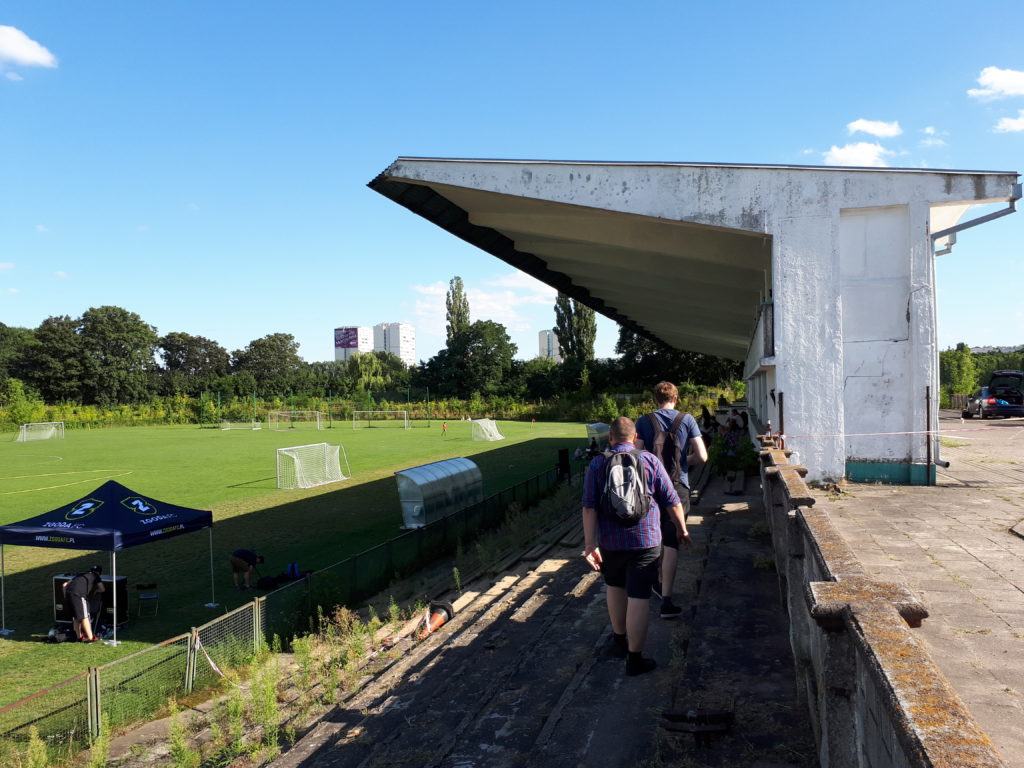 The Stadium at Marymont – old, worn, classic, pure. A real football ground
Entrance fee, match ticket, match programme, bag search on the way in
Forget it – there is NONE of that. This is the glamour of the Polish Cup early rounds! Free entry, no tickets issued, no match programme and no bag search. Bring your beers and have a laugh! Jurassic Park!
Flags (flegs) on Display
Both teams brought respective banners and flags. Famous groundhopper and blogger Radosław Rzeźnikiewicz brought his trademark "Nie ma footballu bez alkoholu" flag which was placed behind the goals.
There was also a comedic upside down gay pride rainbow flag in the weed drenched stand opposite us. Sense of humour is seldom lost on the Polish.
It was a play on hooliganism of course with telling impact. Kartofliska carving the message to their pub team opponents, ETV that they pinched their homosexual flag. There was no home or away end here either – all of us bunched in together. I had my own Northern Ireland flag which was also welcome. Here, we have a love of football. As my Dad always tells me "it's the beautiful game".
As I gazed across the rows near where we were sat – his message had arrived unfiltered. Each and every one of us blessed with a "Northern Irish carryout". In English, beer we carried out of a shop. I don't think anybody was driving – it was also on a Polish bank holiday so a perfect day for this type of match. The car park somewhat bereft of samochods, though a bicycle worked its way onside.
Today's Teams:
Basically today's match is between the team run by a groundhopper, and a team from a pub/bar!! This couldn't get more sublime or ridiculous. Even crazier is that Radosław Rzeźnikiewicz, from the opposing team Kartofliska loves that bar and drinks in it. Here's a rundown of the two teams.
Kartofliska Warszawa
Kartofliska Warszawa are the brainchild and team of Radosław Rzeźnikiewicz, a football fanatic and well-known Polish ground hopper. Radosław is prominent on Twitter and Facebook and his team also have a website and blog.
http://kartofliska.pl/
https://www.facebook.com/kartofliska/
As well as Radoslaw, a popular groundhopper from Belgium was also playing for Kartofliska!
Today Kartofliska would be playing in yellow shirts, black shorts and yellow socks.
Kartofliska Warszawa Squad:
Bramkarze: Paweł Muszyński (28.07.80), Paweł Socha (17.02.91).
Zawodnicy z pola: Hans Bressinck (23.04.90, BEL), Krzysztof Czerwonka (06.09.82), Konrad Ferszter (29.08.91), Mateusz Januszewski (23.02.91), Łukasz Jurkowski (08.03.81), Piotr Kucza (04.06.77), Bartłomiej Lipiński (14.11.74), Łukasz Mizak (02.12.74), Paweł Mogielnicki (19.12.79), Jakub Olkiewicz (10.09.90), Jakub Polkowski (17.05.88), Rafał Pyda (21.08.91), Radosław Rzeźnikiewicz (23.08.77), Łukasz Śledziecki (04.01.86), Bartłomiej Urbański (07.12.80), Żelisław Żyżyński (21.09.77).
Bar Ulubiona ETV
Now for some crazy news. This "pub team", Bar Ulubiona ETV had a player who once played for Legia Warszawa in the 1991 European Cup Winners Cup SEMI FINAL. Not only that, he scored against Manchester United! – Jacek Cyzio Crazy or what and when I checked the result that day, I saw that Mal Donaghy of Northern Ireland had come on as a sub!
https://www.facebook.com/etvwarszawa/
Today Bar Ulubiona ETV would be playing in white shirts, black shorts and white socks.
Bar Ulubiona ETV squad:
Bramkarze: Olaf Lang (07.06.91).
Zawodnicy z pola: Maciej Adam (16.01.95), Michał Białek (17.12.90), Damian Borowiec (24.04.91), Bartosz Cabaj (12.03.97), Jacek Cyzio (06.09.68), Wiktor Doktorski (02.02.91), Bartosz Gil (28.12.84), Maciej Jarmuł (30.09.92), Jacek Kacprzak (23.12.70), Maksymilian Kardas (29.09.91), Emil Kopański (31.05.91), Marcin Kujawiak (30.04.80), Artur Łabanowski (17.06.89), Jakub Majewski (19.04.82), Mateusz Małachowski (27.07.92), Piotr Niciporuk (18.01.92), Tomasz Obrępalski (26.01.92), Mateusz Pułkowski (14.10.85), Mateusz Romian (23.03.94), Jakub Strugacz (29.03.82), Artur Szczepanik (21.03.71), Maciej Śliwowski (10.01.67), Robert Werstak (07.05.92), Mateusz Widłak (09.01.86), Bartosz Ziułkowski (03.02.95).
Match Televised!
The match attracts HUGE media attention. For a low ranked Polish Cup match between veterans, drinkers, pub goers and just general good lads, this was brilliant. The match was broadcast live on Canal Plus and appeared in over 10 newspapers in Poland! Here are just a few…
http://www.canalplus.pl/sport/aktualnosc-puchar-polski-kartofliska-pl-bar-ulubiona-etv-reportaz-wideo_15034911585659
https://regiowyniki.pl/mecz/351/Pilka_Nozna/Mazowieckie/Puchar_Polski/
http://sport.se.pl/pilka-nozna/kartofliska-pl-bar-ulubiona-etv-warszawa-na-zywo-kiedy-i-gdzie-ogladac-stream-gdzie-transmisja_1013228.html
"You're only king for a day" – Van Morrison.
The Match Itself
As a group of 5 we decided to do bets. 5 zlotych each and winner takes all. Mateusz starts and goes for 13 – 2 to Ulubiona. At this point, we all go for a high scoring game and crazy bets. To cut a long story short, it's 0-0 at half time!! BUT the first half and atmosphere so far was simply brilliant. The Champions League blast tune is played at the start, the teams come out, some of the lads on the bench having a beer and cigarette on the touchline. The referee checks the pitch and seems to be the fittest of the first 23. First half was end to end. Both teams have chances to break the deadlock. There might be a few dodgy offsides here, and penis songs, but we're all having a beer and a laugh. This, my friends, a far cry from a Chelsea v. Arsenal FA Cup Final.
At half time with the score 0-0, we make a quick boulderdash for the Zabka for more beers. I grab some crisps and paluszki too. The second half is a different affair. After 54 minutes, we have our first goal, Jacek Kacprzak opens the scoring for the pub team, Ulubiona ETV are 1-0 up. But the fightback happens instantly, and within 10 minutes, Kartofliska have their reward, Jakub Olkiewicz equalises in style. The game refuses to peter out against a Warszawa sky and 600 odd spectators. A wild finish pursues but we end up with a 1-1 stalemate. As we crank open another beer, we are told the match will go directly to "McCrums" (pelanties/penalties). Second half photos:
Penalties/ McCrums!
Surprisingly the match finishes 1-1 after 90 minutes and goes straight to pelanties. At this point, Kamil and I were rooting for Kartofliska to win and they were 1-0 up at one point with a pelanty in hand. But alas, the drama and magic continued…and Ulubiona eventually laboured a 3-2 win  on pelanties/penalties. It was a tight as a Nun's crack.
Address: Warszawa, Potocka 1
Attendance/Spectators/Widzowie: 600 (this is an estimate, I reckon it was more like 687)
Odsłon: 1909
I połowa

Bressinck Hans (Rzeźnikiewicz Radosław)

0 – 0
II połowa
1 – 1

Małachowski Mateusz (Werstak Robert)

Gil Bartosz (Kacprzak Jacek)

Adam Maciej (Doktorski Wiktor)

Mogielnicki Paweł (Polkowski Jakub)

Śledziecki Łukasz (Lipiński Bartłomiej)

Pyda Rafał (Januszewski Mateusz)

Niczyporuk Piotr (Romian Mateusz)

karne
2 – 3

(niestrzelony karny)Kacprzak Jacek

Żyżyński Żelisław(niestrzelony karny)

Kucza Piotr(niestrzelony karny)

Jurkowski Łukasz(niestrzelony karny)
Post Match
After the match, some of the players and fans light flares on the pitch. Rafał and I head to join in and we get our photo taken with Łukasz 'Juras' Jurkowski, famous for being the Legia Warszawa match day announcer and a famous Polish Boxer. I also pose next to the lads with flares.
Post match
It's time to leave our dreams behind in beautiful Marymont, and off we head. Kamil, Matthew and I go for one last beer in Tramwaj pub, but I have work in the morning so it's a kebab and then home. What an amazing day!
"Our dreams are the same, in the sleep we don't get" – Noemi Linzenbold.
Here are some videos I made at the match:
Here are some videos from the match, including the full 90 minutes and penalty shoot out!:
Here are all the Polish Cup First Round matches that day –
I runda – 15 sierpnia (15th August)
Kartofliska.pl Warszawa 1-1 Bar Ulubiona ETV Warszawa 15 sierpnia, 17:00 (500)
k. 2-3
Jakub Olkiewicz 64 – Jacek Kacprzak 54
na stadionie Marymontu
SRS Zamienie 2-10 Rozwój Warszawa 15 sierpnia, 17:00
w Nowej Woli
GKP Targówek (Warszawa) 2-5 Wicher Kobyłka 15 sierpnia, 17:00
Irzyk Warszawa 0-20 MKS Hutnik Warszawa 15 sierpnia, 17:00
na stadionie Hutnika; Irzyk gospodarzem
Farmacja Tarchomin (Warszawa) 0-7 AON Rembertów (Warszawa) 15 sierpnia, 17:00
na stadionie AON Rembertów; Farmacja gospodarzem
Pogoń Wiskitki 0-8 FC Płochocin 15 sierpnia, 17:00
Mazur II Radzymin 1-3 Sokół Celestynów 15 sierpnia, 10:30
Bór Regut (oldboje) – Advit Wiązowna
(8) / odwołany
KS Blizne 3-7 Inter Warszawa 15 sierpnia, 17:00
w Zielonkach
WKS Rząśnik 2-7 Mazur Radzymin 15 sierpnia, 17:00
SKP Korona Warszawa – Victoria Zerzeń (Warszawa) 16 sierpnia, 18:00
(11) / na boisku BOS przy ul. Strumykowej
Korona Jadów 1-5 AP Marcovia II Marki 15 sierpnia, 17:00
Promnik II Łaskarzew 0-0 Start Otwock 15 sierpnia, 17:00
k. 2-4
Orion Cegłów 1-5 Nadstal Krzaki Czaplinkowskie 15 sierpnia, 17:00
IFQ Warszawa 1-11 Huragan II Wołomin 15 sierpnia, 17:00
w Wołominie; IFQ Warszawa gospodarzem
KS Glinianka 4-0 Amur Wilga 15 sierpnia, 17:00
Zły Warszawa 0-5 PKS Radość (Warszawa) 15 sierpnia, 17:00
na stadionie DOSiR
Reprezentacja Dziennikarzy Warszawa 2-3 Wisła Jabłonna 15 sierpnia, 16:00
w Nowym Dworze Mazowieckim
Orzeł Parysów 1-2 Józefovia II Józefów 15 sierpnia, 17:00
nieznany ? – Krzysztof Czapkowski ?, Bartłomiej Bakuła ?
Jeziorka Prażmów 2-3 Vulcan Wólka Mlądzka (Otwock) 15 sierpnia, 17:00
GKS Dąbrówka 2-4 SRT Halinów 16 sierpnia, 19:00
Karol Kupsiński 15 (k), Patryk Stankowski 60 – Adrian Banaszek 13, 35, Krystian Rogala 33, nieznany 75
w Kobyłce
Relax Radziwiłłów 6-1 Tur Jaktorów 15 sierpnia, 17:00
Józefowianka Józefów 3-4 MKS II Piaseczno 15 sierpnia, 17:00
w Płochocinie
Coco Jambo Warszawa 1-4 Świt Warszawa 15 sierpnia, 11:00
nieznany 90 – Jakub Głowala 13, 43, 44, Kacper Krajewski 35
na stadionie DOSiR
Sokół II Serock 0-5 Pogoń Józefów 15 sierpnia, 17:00
Dąb II Wieliszew – Bednarska Warszawa 17 sierpnia, 20:00
(26) / w Warszawie; na bocznym boisku Polonii
Orły Zielonka 2-2 Bór Regut 15 sierpnia, 17:00
k. 4-3
MKS Polonia Warszawa (j) 0-3 Wisła Dziecinów 15 sierpnia, 17:00
(wo)
gospodarze zrezygnowali z gry
Walka Kosów 2-8 Laura Chylice 15 sierpnia, 17:00
WS Warszawa – UKS Łady 15 sierpnia, 17:00
k. 3-4
na stadionie Olimpii / wynik nieznany
OIRP Warszawa 2-2 Kamionek Warszawa 15 sierpnia, 20:00
k. 3-4
Daniel Modelski 47, Miłosz Borowiecki 90 – Adam Janik 28, Filip Pyrzanowski 81
w Ząbkach
Follow and like Northern Irishman in Poland: