"The only way is up, baby. For you and me now" – Yazz.
As a football fan, this story and this adventure was one of my most exciting groundhopping trips in the last few years, so apologies for the delay in including it in my series,
Śmieszne Historie o Piłce Nożnej w Polsce
(Football Adventures in Poland).
Living in Poland
, in the early days I hadn't even realised the incredible story of
Bruk Bet Termalica Nieciecza
…it had me fascinated…maybe you are wondering who on earth Bruk Bet Termalica Nieciecza are…
So this is the story of the football team from a tiny village called
Nieciecza
. Nieciecza has 750 people living in it. That is all. Of that population, let's say 100 are pensioners, 50 are children and that leaves us with 600 people in the 18- 65 working age bracket. Of those 50% are male and 50% female. Of those 300 males, maybe only 250 like football and maybe only 100 of the females. That leaves us with around 350 working people potentially interested in football, at a push!
Yet, this village of 750 people lived the incredible dream. In a country with at least 30 stadiums holding more than 20,000 seats, the club from this village made it all the way to the top division in Poland – the Ekstraklasa! They are not only the first and ONLY village side to play in Poland's elite top divison, but they are Europe's smallest ever top flight football club!! The village is tiny, yet the stadium holds a whopping 4,595 people!! That is more than six times the population of the village. Also in Nieciecza, there is some sightseeing – the village church, a memorial dedicated to a battle in the village started by Germans in 1939, the elephant on the village entrance and of course the football stadium and training facilities. It's a really good set up in a small village.
A visit to this stadium was suddenly on my list of places to visit and I did so during the first year that I lived in Poland. I blogged about it at the time and have also written about nearby
Żabno
,
Tarnów
, and the regional capital 
Kraków
. The day that my friend Rafał and I decided to visit Nieciecza was also the same day we visited the incredible
Flower Village of Zalipie
! So even if you are not a football fan, heading to both Nieciecza and Zalipie on the same day makes for an excellent trip – both are very close to each other…
The weird thing is that a lot of regular Polish people who are not football fans will also not have heard of Bruk-Bet, or Termalica, or Nieciecza! Often nicknamed "Termalica", the full name of the club is Bruk-Bet Termalica Nieciecza Klub Sportowy. They play their matches on the edge in the smallest-ever village to boast and host a top flight football club in Europe. The fairytale has many twists on the way, so before I report on my trip. Here is how this little club lived the dream…think Gretna FC (Scotland or England) or AFC Bournemouth (England) but from a village of 750 people!
The Fairytale of Bruk-Bet Termalica Nieciecza's Record Breakers
With a population of only 750, Nieciecza in Poland became, and still is the smallest village in history to qualify for the top level of a European football league (the former record was held by Czech team FK Chmel Blšany). Termalica achieved this feat in 2015 when they reached the Polish Ekstraklasa after years of hard work and a long series promotions. Aside from the rise, they beat a lot of "big name" Polish teams along the way including the mighty Legia Warsaw 1-0 (a few times) as well as Poland's only European Finalists, Gornik Zabrze. All the magic happened here in this tiny village of Nieciecza. If you thought my trip to the town of Starogard Gdański on the Kazik Deyna trail was a wild off the wall one, this journey was even deeper into the middle of nowhere and truly fascinating.
The Early Years of LZS Nieciecza 1922 – 1946
The club has changed names a number of times down the years but documents show that Termalica were founded way back in 1922 under the name LZS Nieciecza, so they are almost 100 years old. However, nobody outside the Nieciecza or Żabno area had really heard of them until the last 10 years!!
The locals that founded the original Nieciecza team were Stanisław Nowak, Władysław Kaczówka and Kazimierz Wrzos. At that time this Nieciecza team were the first football club in the area. The team from the bigger town of Żabno (which I visited on route) were founded later, and of course later to become a rival. Since 1922, there have been a few changes though – the name, the owner and the kit colour. At the start they also didn't have their own kits – each player had to bring their own shirts and shorts. Legend has it that red and yellow were the first adopted colours. Another disturbing story goes is that the Germans used the pitch and facilities as part of their war plans during the Second World War invasion of Poland. Sad times, but better days lay ahead.
LZS Nieciecza Post World War II / During Communism: 1946 – 1991
Once the Second World War ended, football began again and under the Polish People's Communist Republic (PRL) sports activities in Poland became more organised and professional. Nieciecza became known as LZS Nieciecza and were an amateur club playing in the local leagues. Their rise to the success of today was slow, but things really took off in the first part of the 1950s. LZS Nieciecza were promoted to the then regional class (which today would be the Polish sixth tier). That level meant that Nieciecza played against teams from places like Kraków, Tarnów, Bochnia, Tymbark and other nearby large cities. The club was surviving well until the 1970s, when for some reason the team actually disappeared for a while and didn't play.
Being from such a small village can be difficult of course, moneywise and isolation wise – let's be frank about this – the village was not easy to get to – it is in the middle of nowhere, not even on a bus route!
But the village always had the pitch and by the 1980s the team was back and going strong again. Things were about to change. In 1983 Termalica reached the regional "A" class for the first time in their history. As a lover of groundhopping and visiting random stadiums and leagues on my travels, the "A" class is basically the fifth tier and just one division away from Polish National League football – where the game becomes professional. I know a lot about this due to the fact that my own Polish team of choice are Klub Piłkarski Starogard Gdański. I have watched KP Starogard Gdański in their rise up the leagues myself since 2016. When I first visited the KP Starogard Stadium in 2016, I basically decided to support them for two reasons – one because I stayed IN the stadium at the Hotel Noclegi Rekord (my hotel room overlooked the pitch)! Secondly because Polish Olympic Gold Medal winner and World Cup bronze medalist Kazimierz Deyna hails from there and has a statue in the stadium. KP Starogard were in the "A" class before a promotion, winning of the Pomorskie Cup (I was at the final) and reaching the dizzy heights of the last 16 of the Polish Cup (again, I was at that match!). KP Starogard play in green and have a nice story, but they haven't lived the Ekstraklasa dream just yet. Termalica, however are proof that you can dream big, aim high and get to the top. It almost defies belief.
Termalica's Rise to the top: 1991 – 2015
In 1994, the club changed its name again, but not by much – they became LKS Nieciecza. Within a year of that, they had a new local sponsor and this is where things all changed. Local company Bruk-Bet began to sponsor the club and it was agreed that the club would now be known as LKS Bruk-Bet Nieciecza. This would work well for the company, the club and the village. It would provide financial backing and security, a stadium enhancement and money for players.
Bruk-Bet is a large Polish architecture and design company who specialise in outdoor products for gardens, patios etcetera such as paving stones, courtyards and walls. From 1994 onwards, the club began to rise and rise and rise. There wasn't even a relegation battle. The only way is up…
The club had by now adopted the elephant as their logo, and changed their badge. While their new choice of colours are orange and blue. This might seem odd but at least it was different, though it did make me think of that horrible Chelsea FC kit from the 1990s.
Next came the name changes over a period of years to the "Bruk-Bet Termalica Nieciecza Klub Sportowy" as they are known today:
From the spring round of the 2004–05 season – LKS Bruk-Bet Nieciecza
From the 2009–10 season – Bruk-Bet Nieciecza
From 17 June 2010 – Termalica Bruk-Bet Nieciecza KS
From the 2016–17 season – Bruk-Bet Termalica Nieciecza KS
Two promotions in four seasons saw Nieciecza playing the fourth tier of the Polish league system, still a slow start but pretty amazing for a team from a tiny village even to make it this far. The club began to get bigger and better, there was no stopping them as the owners pumped in some more cash to help with facilities, stadium upgrade and to keep the best players here in this little club. What was to follow was nothing short of remarkable, as the team scored over 250 goals and gainedover 200 points in the next four seasons!! By 2009, little Termalica were plying their trade in the I Liga, the Polish Second Division, just one step away from the dream.
Then The Dream Happened – Promotion to the top flight in 2015
Ironically the exact same month and year (May 2015) that my English club of choice, AFC Bournemouth got promoted, Termalica secured second place in the I Liga (Polish second tier) and the dream was a reality!! Here is a table on the club's progress from 1998 – 1999 season to the magic hour in 2015!
Heady Days of Top Division – the Record Breakers of 2015!
Well once you have lived the dream from non league to the top division in any country, you have done it right? This fairytale was complete. Along the way, Termalica had been some of the country's biggest sides both in their little village but also away from home. For the locals supporters, what a dream. They got to travel all over Poland to the huge stadiums of Lechia Gdansk, Śląsk Wrocław and Legia Warszawa. I saw Termalica live in a 0-0 draw at Legia Warszawa.
"Sunny days, oh where have you gone. I get the strangest feeling you belong" – Fran Healy.
In Termalica's first Ekstraklasa (Polish top flight) season, they finished a respectable 13th, punching with the big boys of Polish football. Their stadium also now had an all seater 4,600 capacity which could cope with away fan requests and also bring in tidy profits for the village. Two years after promotion, in June 2017, the club achieved their highest ever position, a staggering 8th in the Polish Ekstraklasa. For a village of 750 people, a position of 8th in the league is simply ridiculous. Think of the enormity of that. There are over 5,000 larger cities, towns and villages in Poland than Nieciecza! That is 5 places off a Europa League spot.
When I looked back on my childhood, I attended Kilmaine Primary School in Bangor, Northern Ireland. My school alone had 1000 pupils, that's 33% bigger than this entire village! The magnitude of this achievement should not be understated.
The Inevitable Decline: Relegation of Termalica
"They say all good things come to an end" – Wet Wet Wet.
The inevitable happened though. While my Polish friends won't agree with me here, there was a little sadness when Termalica lost 4-0 to Piast Gliwice in May 2018 on the final day of the season. It was a relegation battle. A 1-0 win for Termalica would keep them up for a fourth successive season in the top flight, but it wasn't to be. The club, after all these years to reach the top, had gone back down. As of June 2020, Bruk-Bet Termalica Nieciecza are still in the second tier (Liga I) of the Polish system. The dream has been achieved and now it was back down…
"Somebody's after me, I can't pretend to be something I know I'm not" – John Power.
So what's next for this little village? Well I guess financial security and the hope that there will always be a team here. The club from this small village has now boasted 5 international footballers, packed houses of 4,500 supporters, last 16 of the Polish Cup and top 8 in the Polish League. While winning a cup and getting into Europe might seem a step too far, who really knows. Termalica will be back. Even if they are not, it's still pretty impressive to even be in the second tier! Now for my report on my trip to lonely Nieciecza…
Getting to the stadium at Bruk-Bet Termalica Nieciecza
I will warn you – this is not easy unless you have your own car! Rafał and I were backpacking it together and we looked at train routes and bus routes to tiny Nieciecza. No can do. Similarly to my trips to tiny Polish villages Chotyniec and Kokoszkowy, this place – Nieciecza was in the middle of nowhere, isolated, out of reach and not on a train or bus route. Plus, we were going on a Saturday so even less buses. Luckily, Google Maps make it easy these days. However that doesn't make your trip getting here any easier. We started in Warszawa, got a train to Krakow, then another train to Tarnów, then a bus to the town of Zabno! From Zabno we headed to Nieciecza and after that Zalipie, as you can see on the map below.
Since we didn't have a car, the best way was back to hardcore backpacking and well, hitch-hiking! We started early morning and went from Kraków to Tarnów to Żabno to Niecziecza (and finally via Goruszów to Zalipie). It involved one train, one bus, lots of walking and two rides from locals as we hitch-hiked our way all the way to Zalipie. There were just two of us on the trip – myself and the famous Rafał Kowalczyk. However, we walked all the way to Nieciecza!!
Step 1 – Train from Kraków to Tarnów
Okay so part one was easy enough – getting to Tarnów is no problem, it's a relatively big city and is on main train and bus routes from various parts of Poland. I had passed through it twice before on trains to Rzeszów. This time, we got a train from Kraków, taking advantage of the Bilet Weekendowy (Weekend train ticket) which covers you on lots of different train routes in Poland from 18.00 Friday evening until 06.00 am Monday morning. Our train was slightly delayed but we arrived in Tarnów mid morning.
The cost was 81 złotych for the Bilet Weekendowy (singles for this route only may be cheaper).
Step 2 – Bus from Tarnów to Żabno
Next up we looked for a local bus from the city of Tarnów to the town of Żabno. We had a short walk to find it, near the Church on Krakowska Street (Parafia św. Rodziny). The bus left about 30 minutes after we had arrived in Tarnów and was a 20 – 25 minute ride to little Żabno.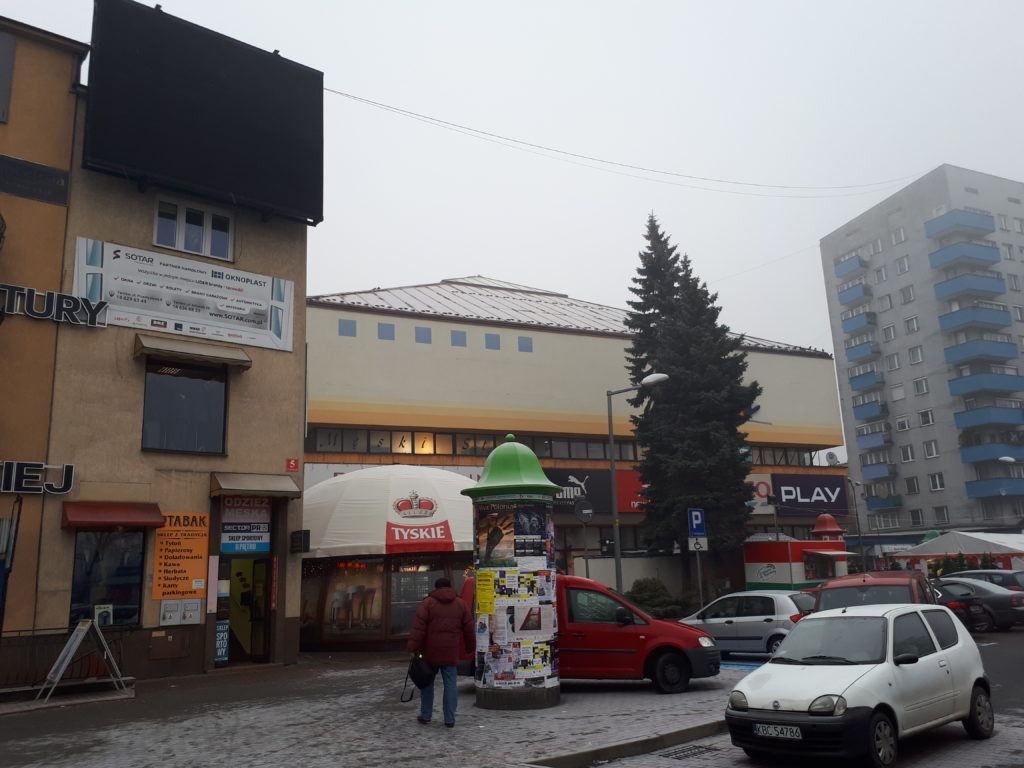 Step 3 – Walking from Żabno to Nieciecza
The next leg of the journey we decided to walk it! Sure it was a cold December frosty morning, but we were warm and the journey by foot shouldn't take too long. It was around 2 – 3 kilometres through the countryside. While walking we were able to admire the scenery, take some photos of places we wouldn't see on public transport and have a beer along the way. Finally, we arrived in the magical village of Nieciecza, and it was everything this fairytale promised.
We arrived in Nieciecza mid to late morning with the plan of buying our match tickets for that night's match. However, once we got there, the ticket office wasn't open and we would have to wait until a few hours before kick off. So after a quick walk around the village, and admiring the elephant monument (entrance to the village), we were off again…
Leaving Nieciecza – Hitch-Hiking from Nieciecza to Goruszów
We decided to leave Nieciecza on foot and try to hit-hike our way to Zalipie, which was about 14 kilometres away. Within 20 minutes of walking, we got our first lift off a kind gentleman who left us in the village of Goruszów. We offered him money, but he didn't want it. He was happy to help!
Taxi option for the match / Beer and Dinner in Tarnów
After touring Zalipie and returning to Tarnow, we ended up having to get a taxi to the stadium and back for the match. Of course walking the 3 kilometres from Zabno was an option again, but to do that three times on one day felt ridiculous especially in darkness. Plus we had been out in the cold all day and would be again for the match. It was a very cold typical winter night. So we found a taxi driver who would drop us off and come back for us after the match. Most people drive there. We had a good meal and some beers in Tarnów in the meantime.
Watching the match at Bruk-Bet Termalica Nieciecza's Stadium
Tourists as well as locals are welcome to come and watch Bruk-Bet Termalica Nieciecza play at home here (but there was another twist in my tale to come). The stadium is simply called Stadion Termaliki Bruk-Bet holds around 4,600 and tickets for big games (against teams like Legia Warszaw, Wisła Kraków and Lech Poznań) might sell out quicker. We queued and got our tickets in the smaller stand (opposite the hardcore home fans). 35 zlotych was the price on Saturday 2nd December 2017. The match was Sandecja Nowy Sacz v. Legia Warszawa (Polish Ekstraklasa).
Bruk-Bet Termilica Nieciecza is a supporter focused club, with a large car park and a friendly club shop and mini cafeteria by the stadium. The oddest thing was the trophy cabinet is open plan – the trophies were just sitting on the desk in the Supporter's Club Shop!!
The Crazy TWO Team Stadium Share 2017-2018
The weirdest and craziest fact was still to come – this 4,600 seater stadium in this tiny village hosted TWO top flight teams in Poland for the entirety of the 2017-2018 season! Yes, you heard right. Termalica were only in the top flight for three seasons (2015-2016, 2016-2017 and 2017-2018), yet in the final season of that, 2017-2018, another nearby team, Nowy Sącz didn't have a good enough stadium and so they ground shared!! Not even the bigger club's stadiums like Legia Warszawa and Wisła Kraków have done that!! So yes, the story gets crazier. We headed all the way to Nieciecza, not even to watch the home side, or the renting home side, Nowy Sącz!! We were there as away fans of Legia Warszawa that day. At a time where even away fans were not even allowed! We saw the stadium in daytime snow (gorgeous), had a day of sightseeing, backpacking, good food and beer and finally, the match!
The match itself – Sandecja Nowy Sącz 2 – 2 Legia Warszawa
Despite this being a long blog post, I am not even going to write in detail about the match itself! However, a Portuguese player for Legia Warszawa, Guilherme received a red card and Legia Warszawa (who won the league in 2016, 2017 and 2018) needed a last minute equaliser to make it 2-2. After that crazy trip, it was a really exciting match, but we wanted a Legia win! Here are the match highlights.
And here are some photos of the match itself.
As another fact, I have actually watched Bruk-Bet Termalica Nieciecza three times, but all were away matches in Warsawa (1-1, 0-0, and a 6-0 win for Legia Warszawa) and I have ticked off a match at their stadium now too. For football groundhoppers, this is truly one of the most incredible experiences in European football. Don't miss it! Here are some more photos from our fantastic trip to Termalica!
Here are some videos of my trip to the stadium of Bruk Bet Termalica Nieciecza:
Watching Legia Warszawa 6-0 Bruk Bet Termalica Nieciecza in 2017:

Follow and like Northern Irishman in Poland: