"I'm back. Live Forever" – Liam Gallagher.
Undoubtedly my reasons for making Biskupiec my first travel adventure of 2017 and my first ever live blog on Northern Irishman in Poland were selfish, passionate and grown out of depression. I wanted to see if I could still do it. Do what? Be a cool tourist, be a real travel writer, tour a town that nobody heard of and love it like you never loved anywhere before. On this day, Friday 13th January, fate fell on the town of Biskupiec. You were next on my journey baby, how did I fit back in and what was Biskupiec like? Spill your beans…
"I have got to stop smiling; it gives the wrong impression" – Nicky Wire.
Getting to Biskupiec
Biskupiec is in the Warmian-Masurian Voivoideship (Province) and the nearest big city and known city is Olsztyn, you can check my ongoing "Where I've Been in Poland" page here. This was my debut visit to this province and I also had a bit of time in Olsztyn on my return. I had a few options for getting here from the Polish capital of Warszawa, but in the end I chose the train from Warsaw to Olsztyn and then a bus from Olsztyn to Biskupiec. My train left Warszawa Centralna at 11.54 and was due in Olsztyn at 14.28.
My train from Warszawa cost 39.90 zlotys and although it was due into Olsztyn at 14.28, the snow and winter weather caused a delay of 1 hour 17 minutes. I finally rocked up into Olsztyn Glowny at 15.45 pm. In the meantime, we had about 30 minutes stop in the town of Nidzica.
There is also the option of a bus from Warsaw to Mrągowo, which is near Biskupiec. Once I got to Olsztyn, my friend had told me the bus station was nearby. I was in luck. There was a bus leaving at 16.20 so I paid 4 zlotys for a ticket and soon I was on the road through the snow to the town of Biskupiec. So that was a total of 43.9 zlotys (about £8.50) to get from Warsaw to Biskupiec.
"What a thrill; fascinations galore" – Sheryl Crow.
I was really grateful for my travel friends for helping me plan this trip, as on my previous trip to an unusual town, Starogard Gdanski, my friends from there decided to lie to me and not feel passionate about my trip. Their loss really, as I was later in the Kociewiak Newspaper and I also featured in the press in Tczew too. But here, my Biskupiecian friends loved my story, I was so happy about that and also appeared on the local Biskupiec Website. Enough of the history, here was my story on the trip to Biskupiec. A town which definitely fits the "off the wall"/"wacaday"/"pimp my detour" travel niche I articulately created and passionified on the defunct artwork present on the pages of Don't Stop Living. I stayed alive while that site as a blog bit the Mercury dust.
"In a jack-knifed juggernaut, I am born again" – Thom Yorke.
Where to Stay in Biskupiec?
There is not an abundance of sleeping options for a tourist in a town of 12,000 people but as I was here over two nights (a Friday and a Saturday) I decided to do a night in each of the towns' two main hotels – Hotel Atelier (the posher one) and Hotel Stara Kaflarnia. I have reviewed these hotels separately and both were excellent with good hospitality and very clean. Simple things like this are part of the reason why I kocham Polskę (love Poland).
Good Resource Websites for Biskupiec
Part of my aims for this site is to make sure I work with local companies and organisations to help promote them too. So these are good resources and websites for anyone in and around Biskupiec:
http://www.biskupiec.pl/
http://www.gminabiskupiec.pl/asp/pl_start.asp?ref=1&typ=13&menu=23&strona=1
http://biskupiec.wm.pl/
http://biskupiec.com.pl/kontakt
http://wm.pl/358,Kontakt-Redakcja-Gazety-Olsztynskiej.html#axzz4Vkz5flhw
And the town's nice flag… #biskupiec #tourist #whackpacker
About Biskupiec
Unlike Poznan which I dubbed "Pozzie", Biskupiec is not nicknamed "Bizzi" or "Busy", I prefer to use its full name, it is located in Olsztyn County and has a predominantly Catholic population of approximately 11,400. The countryside surrounding Biskupiec is a popular tourist destination, part of the Masurian Lake District. However not many tourists venture here, and certainly not many Northern Irish travel writers. Time to break the winter ice on this gem then. It's snow joke.
Top 25 Sights in Biskupiec
I amassed a whopping 25 sights to check out in Biskupiec so I'm not going to cut it down or do a "best of", if you venture here, you'll have time to see all of these places. I didn't include any places that double up as a bar, cafe, restaurant or hotel as they are included separately in my hotel reviews, Piątkowe Picie and Smaczne Srody series, for example the gorgeous Steak I had at Steakownia. Bardzo dobre!
So here, are my personal top 25 sights in Biskupiec (and stretching out to the district of Zatorze and the Lake Jezioro Kraksy which are given for the adventure seeking backpacker in Biskupiec).
1.Browar (Brewery)
Don't expect to get a full on tour of a local brewery. Instead, prepare your camera from a throwback to yesteryear. As once upon a time, here by the river and Miejski Park are the reains of the old brewery, the Browar. The distinctive chimney pierces the air. What's more interesting is that here was the VERY FIRST BREWERY in Poland to produce Keg beer! A nice bit of history…and there is some information on boards outside.
Sadly there was also a disease here – a cholera epidemic and a brick obelisk is dedicated to the victims of that. SO the history here is a little sad and sombre. Even more on a lonely winter Saturday.
Currently, this is the only brewery with historical traditions in Warmia. It was founded in 1885, and won numerous awards for its quality beer. Before World War II the factory also produced mineral water and soft drinks, but no alarms and no surprises that it was destroyed during the war. In the 60s, the brewery was one of a few in the Olsztyn region to be reconstructed and re-used. This was shortlived and by 31st May 1998 the brewery closed. To this day it remains in its position. Who knows if the glory years will ever return.

"They'll pass you by; glory days" – Bruce Springsteen.
2.Most św. Jana (Bridge of St. John)
There is one main bridge of note in Biskupiec and it is the Bridge of St. John which links the town centre across the Dymer River. It's a small bridge near the popular bar and restaurant Przystań Warmińska. I crossed the bridge a few times, you get a good viewpoint of the church as well as it being the walkway to Przystań Warmińska, probably my favourite bar in the town.
By the bridge are also some information boards and interesting photos of an aerial view from days of yore in Biskupiec.
3.Dom Dziecka (Apteka)
On my second night in Biskupiec, I stayed at the Hotelik Atelier which was opposite a striking building, the yellow Dom Dziecka. My bedroom had a viewpoint over to it. Again, on my journeys buildings like this just add that extra bit of mystery.
These days the building is used as a pharmacy, but it has many uses in the past including as an orphanage.
4.Plac Wolnosci (Rynek – Main Town Square)
The main attraction, the main sight – the pride and joy of every Polish town – an old town square for people to meet – in this case, Plac Wolnosci. In deep winter snow of a January, this was gorgeous.
Most major town events will take place here – when I was here there was a Charity Day.
5.Kosciol Parafia Błogosławionej Karoliny Kózkówny (Caroline's Church)
Biskupiec has two main churches so naturally I visited both and went inside them. Caroline's sits on Ulica Warszawska.
6.Dawny Ratusz (Old Town Hall)
Evidence of days gone by and the arrival of commercialism don't get much more crystal clear than this. Once the Old Town Hall, the Ratusz is now functioning as a bank. Thankfully the building remains intact.
It is just beyond Plac Wolności, down Pionierow Street. Biskupiec coat of arms at the top and a small green minty dome.
7.Księgarnia (Plac Wolności)
To pick up some really cool postcards and information on Biskupiec and the region, call into the only book shop in the town square – the Księgarnia. What's more is you can send postcards from Biskupiec. I love sending postcards from unusual or unknown towns.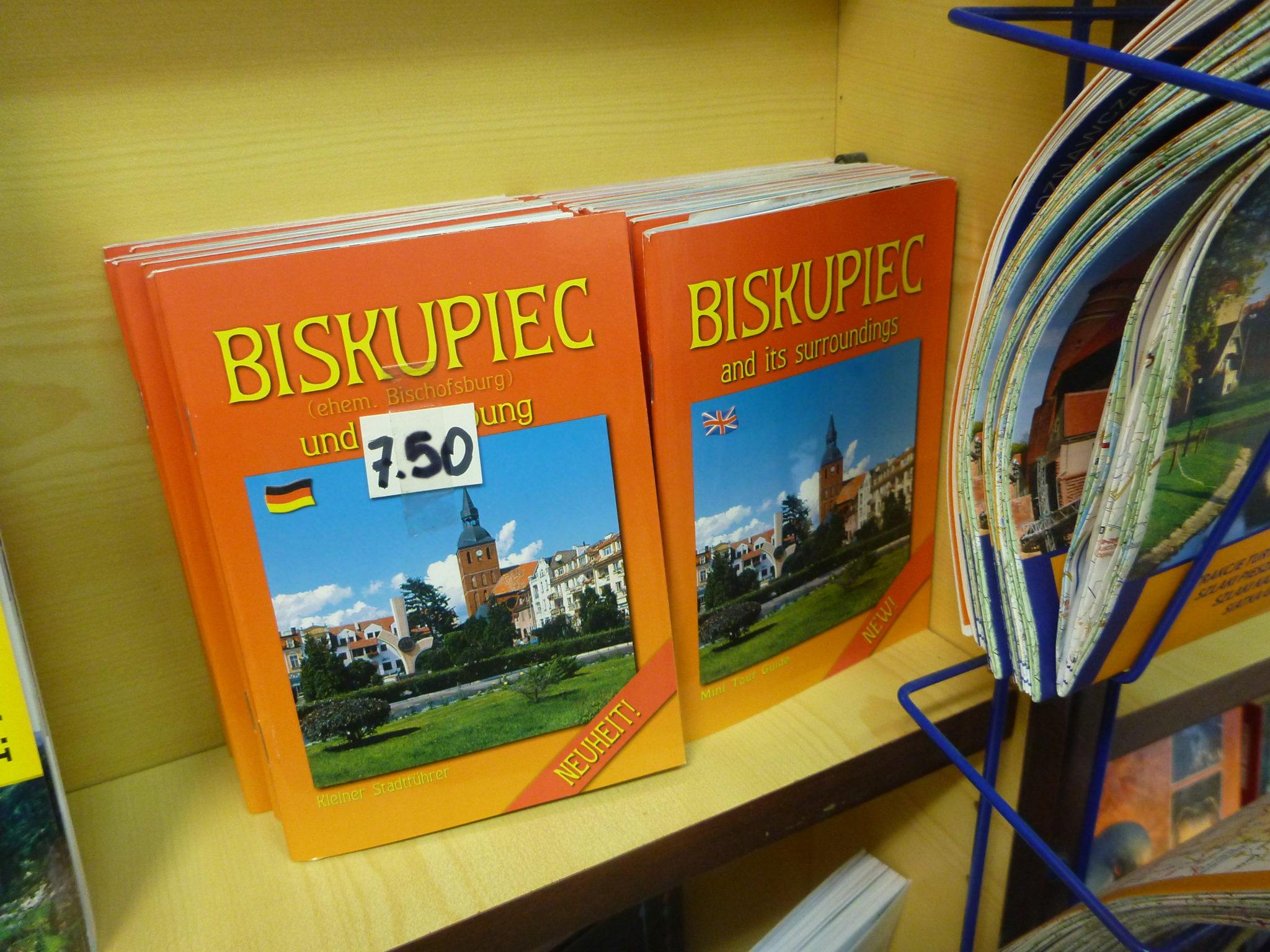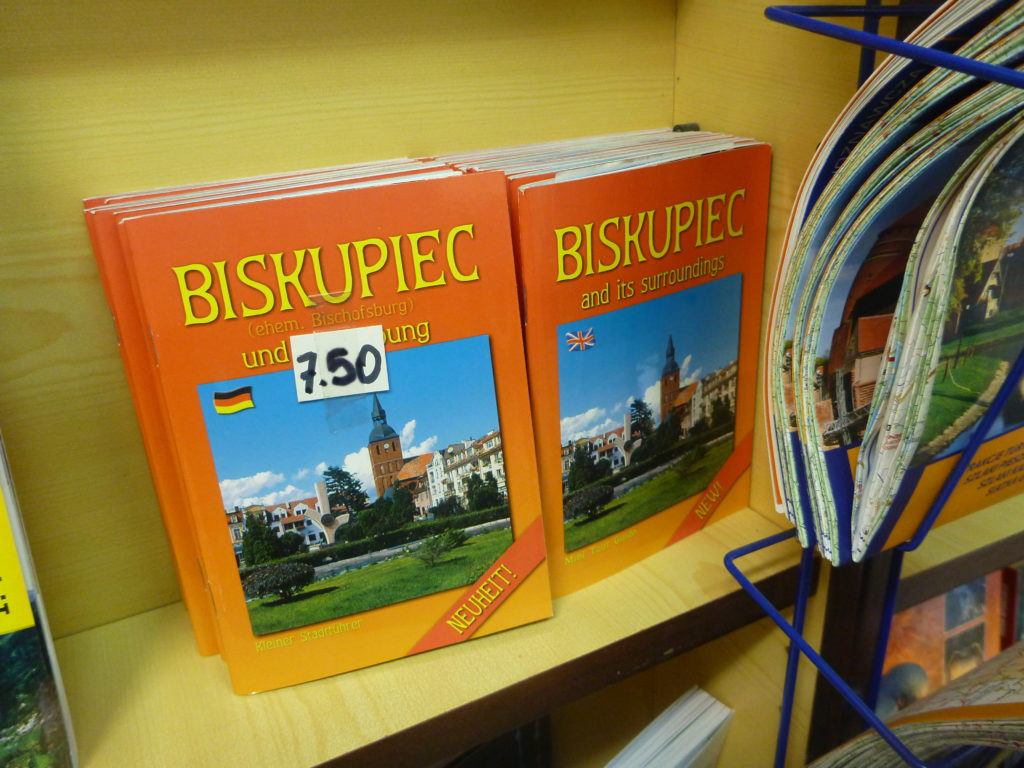 The main post office itself is on the other side of the river, closer to the Dworzec.
8.Park Miejski
As well as being a really cool park to dander through, Park Miejski also has some nice boards with information on them. As I was here over the weekend and the Tourist Information was closed, I could read these boards and make a list of the key backpacking sights. I hope I have included all of these on this list!
There is also a nature trail that explain the different flowers, plants and shrubs here. Given I was backpacking it in winter, I didn't really find many of these but for sure a springtime idea.
"Springtime's slipping away my love, yeah springtime's slipping away" – Tim Wheeler.
9.Ulica Warszawska
Not the main street by any stretch, but a prominent street is Ulica Warszawska. On it was the Stara Kaflarnia where I stayed plus it leads from there to the Plac Wolnosci, taking in some of the sights along the way including the Browar and Park Miejski.
"It's your face I'm looking for, on every street" – Mark Knopfler.
10.Dworzec (Train Station)
Biskupiec is too small a town to have a major railway station but the Dworzec is where all trains and buses come in and out of. The train station looks like it is barely used these days, but of course trains still come through it, though I didn't see any of them stopping here on my trip.
I had a look inside the train station which is a little eerie and left to the joys of nature, for now…
11.Kosciol Parafia Rzymskokatolicka Świętego Jana (St. John's Church)
St. John's is the main church in the town and also the town's highest point. Its spire and tower gaping over a pretty town from just behind the Rynek/Plac Wolnosci.
It wasn't always open of course but I had a look inside and went in to pray, which leads nicely to sight number 12.
12.Wnętrze Kościoła
So inside the Kosciol Parafia Rzymskokatolicka Świętego Jana (St. John's Church) is the Wnętrze Kościoła.

There are also well designed stained glass windows inside. It's a beautiful church. You have to love Polish churches. They are so so sacred and always inspire me.
13.Kino Millennium
Despite sounding like a cinema for the 21st century, the "Kino Millennium" is shut down and Biskupiec has no such form of entertainment. Who wants to watch a film anyway. According to a source, the site of the Kino Millennium is where a supermarket Biedronka now sits. Just to make sure I saw it, I visited both Biedronkis that I saw…
But it wasn't the above one, Kino Millenium was in the Biedronka close to the Dworzec. I had thought I photographed it too, but alas I didn't, I did take a photo of the road leading down from it. So I guess that Biedronka is just to my behind left, from where I took this photo.
14.Urząd Miejski
The Urząd Miejski is basically the council hall and government offices. I can't really call it the "town hall" as that moniker surely belongs to the Ratusz which is now a bank. This building has gardens in front of it and sits on a corner by a roundabout.
I passed by on my journey out to the Zatorze part of town. There are good information boards for tourists on the corner opposite the Urząd Miejski, Biskupiec.
"In a champagne supernova Biskupiec" – Liam Gallagher.
15.Football Stadium
Beyond Park Miejski, I wandered to the football stadium, home of Football team BKS Tęcza Biskupiec…
It was frozen over in winter during the break, and I couldn't somehow place the pitch! Here is their Facebook Page and latest team photograph instead!
Invite me to the match next time lads – I can't wait. Though I admit I am a Klub Pilkarski Starogard supporter giving my stay at the Kazimierz Deyna stadium and my whackpacking in Starogard Gdanski!
16.Jezioro Kraksy (Kraksy Lake)
My oh my this is when your journey to Biskupiec lives up to your childhood dreams. A 20 minute walk away from my hotel along the main road out of town, I swing a right down a side street where I see a shop (Sklep) selling ice cream (lody). I'm searching for the Lake – Jezioro Kraksy.
Through the little housing estate and into a mini forest, I find a clearing – it's a frozen lake. Dream it up, no need.
It's a winter wonderland. I'm amazed. I feel so childlike and I text my friend from Biskupiec. She replies "oh great that reminds me of my childhood", I almost cry as I walk onto the lake praying to God that it doesn't crack (it's called Lake Kraksy) and I don't sink.
I feel elated and over joyed. It is a Saturday afternoon and then I remember AFC Bournemouth and Glentoran FC are playing so I head back to my hotel to find out the football scores (shouldn't have bothered we both lost…).
17.Sorboma Dom Pracy Twórczej
Strangely, I didn't go inside the Sorboma Dom Pracy Twórczej, which is almost like a mini museum in the main square, Plac Wolnosci. This kind of makes me want to go back to Biskupiec just to Polish off my article.
18.Cross of Jan Pawel II
Sitting in front of the Browar entrance on Warszawska Street, is the Cross of Jan Pawel II, John Paul the Second. Easily one of the most popular and famous Polish people of all time, the Pope is well remembered here with this cross.
19.Aleja Dymerska (Dymer River Dander)
As I was walking along the river I noticed a sign of an actual "river trail" so I went for a wee dander so I did. This was along the Dymer river, main and only river that waters its way through the town of Biskupiec.
"Tell me love isn't true. It's just something that we do" – Madonna.
20.Crazy Statue Man
I checked some tourist leaflets and couldn't find a name for this attraction but as a lover of art and off the wall things, a crazy statue man in the middle of a small garden near the Stara Kaflarnia has to be worth checking out. He has an ear-ring and is holding a ball.
21.War Memorial (Plac Wolności)
Right in the centre of the main square at Plac Wolności is a War Memorial. In almost all Polish cities, towns and villages they have one of these.
"It's written in the starlight, and every line on your palm; we're fools to wage war on our brothers in arms" – Mark Knopfler.
22.Shopping Precinct
In towns like this, thankfully commercialism has not taken over completely yet. This is why I was happy that the town's largest pedestrian shopping precinct is away from the main square. While there are Tescos and Biedronkas in town, this precinct with a car park also has a Media Expert retail store, a few shops and bakeries.
On the way to it from St. John's bridge, there are also two nice looking ice cream shops, closed in winter though, which is what I predicted. If you are learning Polish, be careful not to ask a lady ice cream seller "zrobisz mi loda", while the meaning sounds like "do me an ice cream" you might end up with your trousers down out the back, literally. Work it out folks 😉
So that is 22 main sights for you in Biskupiec but I promised 25, so my final three are from the Zatorze district, a 15 minute walk from the town centre. While it is still Biskupiec, here are my top 3 sights in Zatorze, completing a textbook top 25 and possibly the first backpackers tale of this little Warminian town…
Backpacking in Zatorze, Biskupiec: Top 3 Sights
To walk to the Zatorze, head to the roundabout where the town hall meets the main tourist information board. From here, follow the road on the left, I think it is called Aleja Niepodleglosci. You will have to walk along this main road, then turn right onto Tadeusza Kościuszki Street and across the railway line, here you find the Zatorze part of town.
1.(23). Biskupiec Cultural Centre, Matejki Street, Zatorze
The first sight of note to see here is the Cultural Centre which is on Matejki Street. It's an area to hang out and mingle. People went shooting roosters here, they hang out, get artistic and there is also now a small football pitch. It was covered over in snow and was winter time so not much happening when I was there.

2 (24).Wieza Cisnien (Water Tower)
This water tower (Wieza Cisnien) was built back in 1913, outside of the town here on Lesna Street. At the time, there were no houses here. Those were built later in the 1930s. At the time, the two main sights of the town were this water tower and St. John's Church, as is detailed below.
3.(25) Dom Kultury (House of Culture), Zatorze
This culture house was where locals used to hang out and mingle. Again in winter, not a lot was happening but it was a pleasant stroll and certainly interesting. I also heard about something called a Poligon in this area but again, I never saw it.
And despite amassing a top 25, it could have been 27 (and maybe more), here are 2 sights I think I missed somehow:
Biblioteka Miejska
Koszary
Please also note that although some of the bars, restaurants and hotels are also good "sights" to check out – particularly the trendy Stara Kaflarnia, I have not included them on this list as I have reviewed them all separately in my lists so don't worry – you can find the best bars here. Here are some more photos of beautiful Biskupiec.
Without further ado, some videos and hopefully the residents of Biskupiec enjoyed my story and trip to their town.
Here are some videos from my time backpacking in Biskupiec:

Follow and like Northern Irishman in Poland: